This is my way of replicating roll cage padding and zip ties.
You will need the following items:
Some nylon fishing line of around .165mm to 02mm or around 3lb to 4.5lb breaking strain. Clear or smoke to represent those whiteish zip ties or black for the black versions.
Some small bore silicone tubing for the padding.
Some CA glue.
A cocktail stick.
An Exacto knife with a BRAND NEW No11 blade.
And finaly, a LOT of paitence as this is a time consuming but satisfying job.
First of all cut your tubing into lengths to suit your roll cage.
Now cut each piece down its length so it fits over the cage bars. This is how it would be done in the 1:1 world anyway. Don't worry if when you fit it, it doesn't go all the way around. It usually doesn't in the 1:1 world either.
Place the 1st piece on the cage and check it is sitting properly with the slit where you want it (away from the driver) and that it looks good.
Now study the following diagrams and description carefully and make some practice knots using a piece of line abou 12" long to start with. You will be able to shorten this to about 6" with practice.
Instead of passing the line through the eye of a fishing hook, pass it around the roll cage padding instead and pass the line THREE times around itself.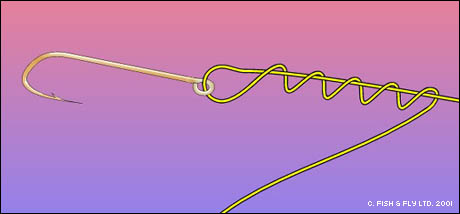 Now pass the 'tag' end through the small gap between padding and line.
You can eliminate the 'tuck' whereby the 'tag' is passed into the loop. This only makes the knot more bulky and is only needed for added anti slip while fishing.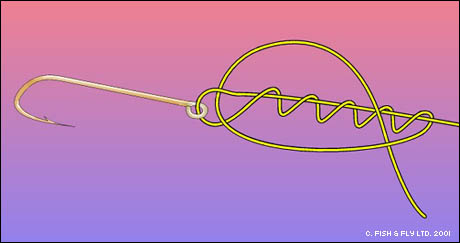 Finaly draw up the knot by pulling slowly and gently on the other end of the line to the 'tag' end, supporting the cage with the other end. Draw it up tight enough to just sink into the padding a little.
When you have the 'zip tie' completed, swivel it around the padding until you have it in the position you want.
Now dip the cocktail stick in the CA glue and apply a TINY drop of glue to the knot.
Lastly, using the Exacto knife, trim the knot as closely as possible.
When you have finished you should end up with something like this: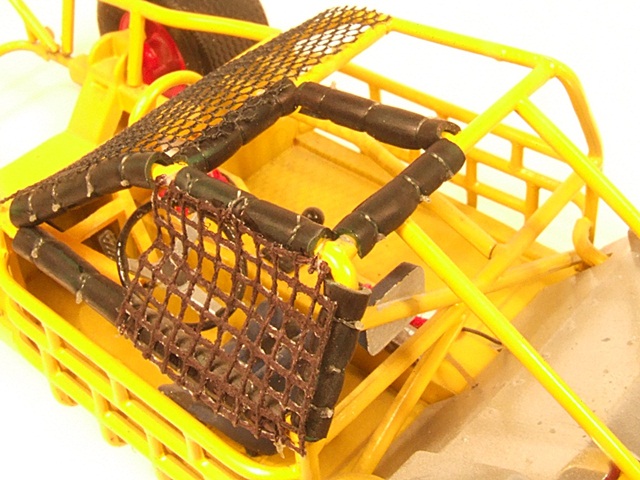 For scratch building roll cages see
HERE