I am not sure how old this kit is. There is no bar code on the box. So that makes it pre 1980. There is no copyright date on the box or instructions.
The kit is made by Entex. Never heard of them either.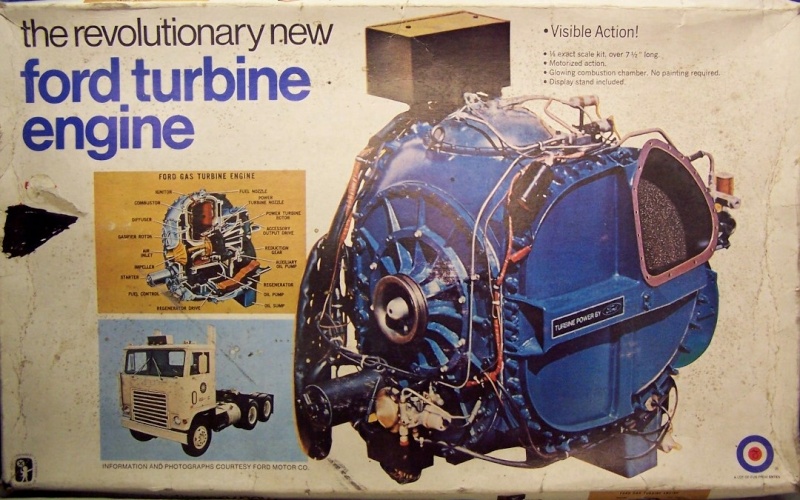 It says on the side of the box.
"The Ford Motor Company has now succeeded in overcoming the problems previously experienced in harnessing the jet engine (gas turbine). The Ford A-707 engine in now in use in surface vehicles, land and water,in addition to industrial generator applications. It features a unique regenerative system which recaptures exhaust waste, a variable turbine nozzle and electronic controls. It is predicted that the turbine engine could replace piston and Wankel and, according to The National Research Council, "may appear in production cars as early as 1980" which is not far away considering the normal development of passenger vehicles."
So here it is 30 years later and that never happened. LOL
Looking around on line I found this.
Back in 1978 I took a peek at what was happening with gas turbine engines in heavy trucks and was surprised to learn that most North American manufacturers were running at least one line-haul test bed unit. Ford had their futuristically-styled "Big Red" doubles outfit powered by the 600-hp Ford 705-series GT engine running coast to coast as long ago as 1964 and later, in 1966, used a W-1000 tractor unit to test the low pressure 707 GT. But by the late 1970s, the lack of any real progress meant that Ford's GT engine project had already been relegated to back burner status.
So it looks like the A 705 was out in 1964 and the A 707 in 1966. Anyway on to the kit it's self and the build.
Here is what I saw when I opened the box.
The variable nozzle is glued to a flywheel and then in to the two case halves.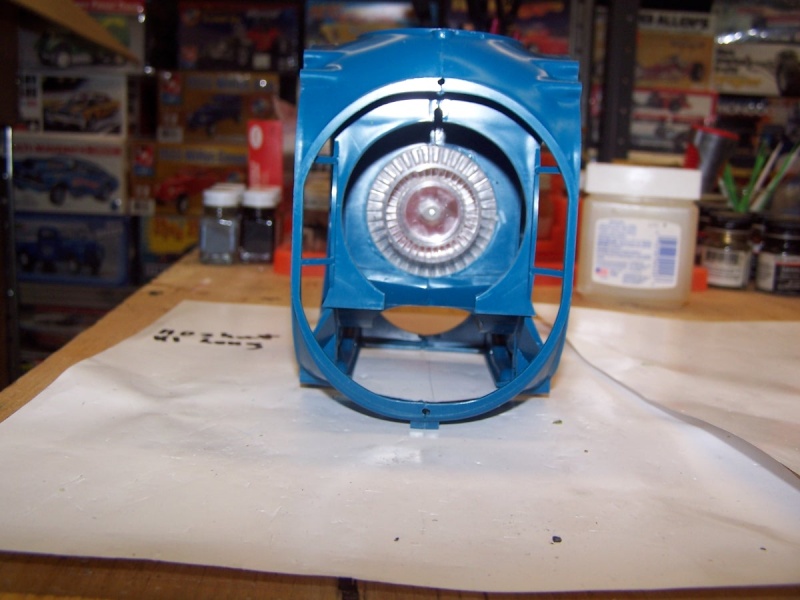 Then two regenerators and installed on to the sides of the case.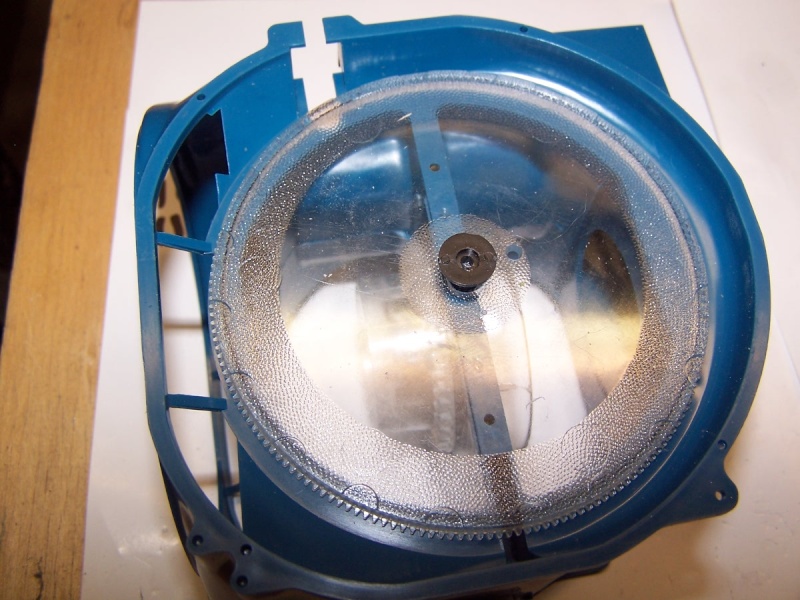 This is where I hit my first snag. The rivets they give you to put the regenerators on with are to long. When you put it all together the rivets hit the flywheel binding the whole thing up. Then nothing turns. You have to shorten them up this much. I used a Dermil with a small grinding stone.
When all that is done and you are sure it turns on to step 4. Putting the impeller together and the Diffuser housing.
That's all I got for right now. I will be back later tonight or tomorrow with an update. Thanks for looking in. Any comments or questions are welcome.