This one only took 14 days and $16 to build, yet it is my best award winner and the one I get asked the most questions about. It does have 12 functioning LED lights and no external wiring.
I bought this kit several years ago because it was a clearance sale and very inexpensive. I probably thought I would give it away. I don't really like the Mach 5, however this one does not seem correct and therefore is much more appealing. For one thing, it does not have those weird Lamborghini style wheel openings.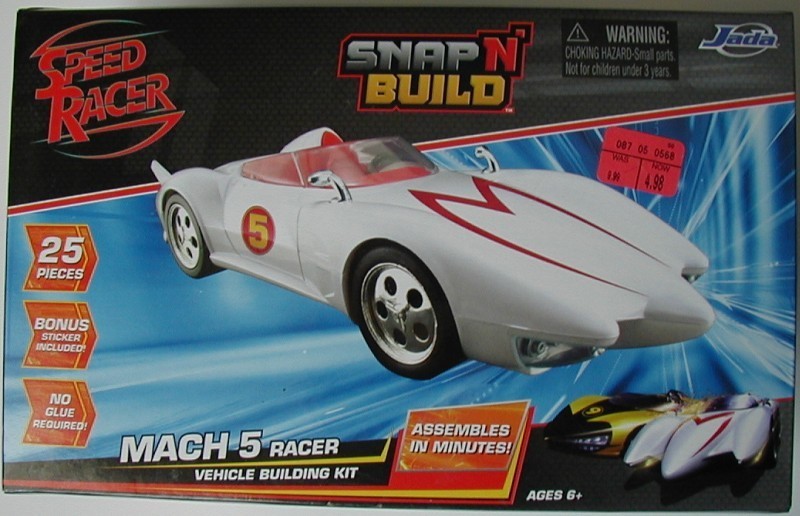 Yes it started out as a snap kit, but I took all the snap out of it by drilling all mounting points. These points are originally hexagonal in shape so that there is an interference fit to hold the model together. I manually drilled them out so that I can take it apart in order to fit the electrical system. Once drilled I had to taper a few mounting posts for a true and complete fit. There would have been some body panel gaps if I had left it a snap kit.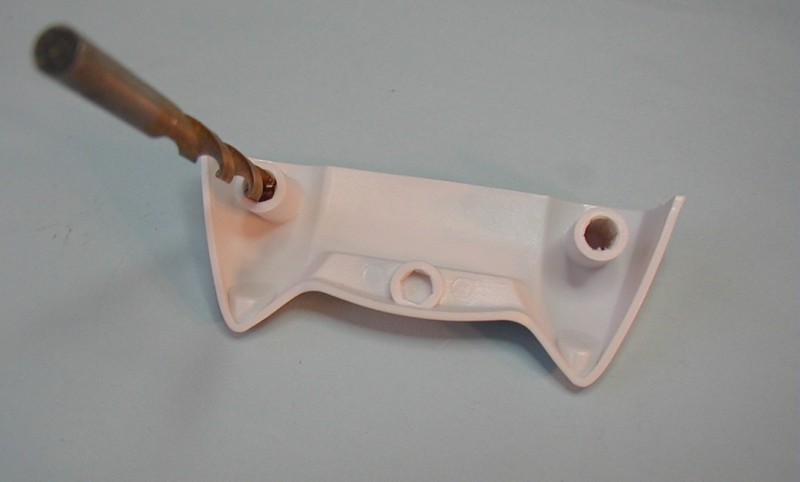 I removed the over-sized rear view mirrors. I will not be installing the rear fins, so I used two-part Bondo to fill in the various holes.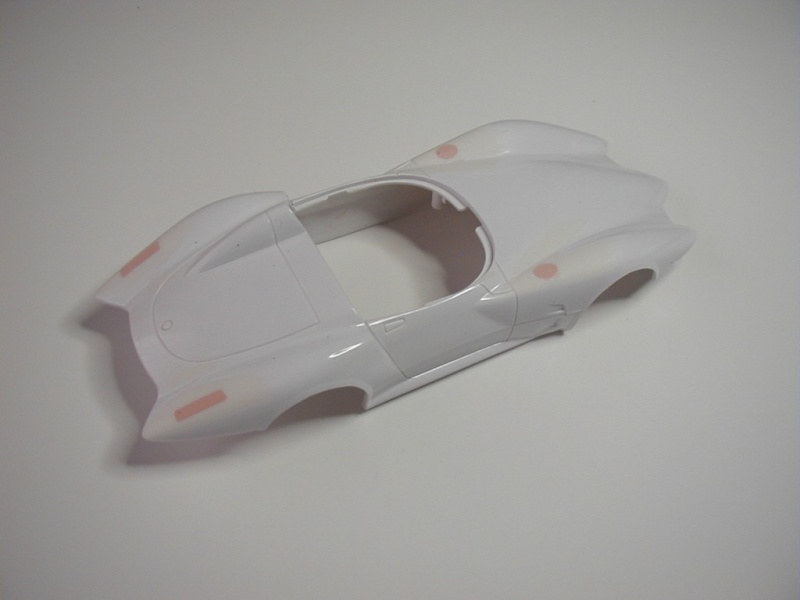 I'm not sure where the tail lights are supposed to be on this car, so I thought I'd make my own. I started out by polishing up a piece of 7/32 OD aluminum tubing with steel wool. Then I cut a piece off with my X-acto miter box. Next I squared and deburred the ends. The LED is slightly tapered. It is larger at the wire end. So I had to use the rat tail file to enlarge one end so that the light will totally fit inside. That seemed easy enough.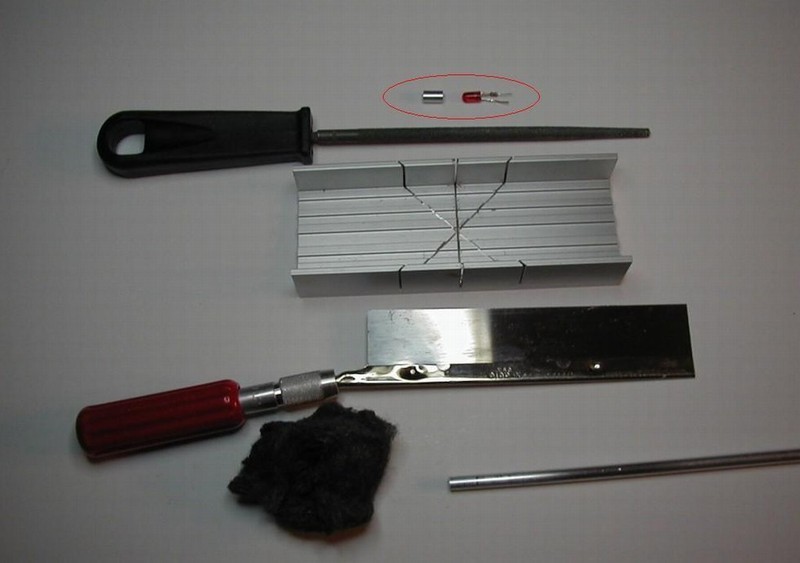 Now comes the time in most of my builds where everything comes to a grinding halt. Puttying. While trying to make holes in the rear deck for the new lights, I discovered it was going to be a more radical surgery than originally thought. The holes had to be much larger and I have to remake longer tail light housings. Worst of all, my Bondo was destroyed.
After realizing what needed to be done, I made a jig to hold the tubing in place so I could Bondo around it. Then I put a light coat of petroleum jelly (Vaseline) on the tube, placed it in position, and Bondoed around it. Gratefully the tube pulled out with no problems, when the Bondo was dry. Unfortunately I needed to do some touch up putty work. I am on my fourth try.
When my wife saw the tubing in the fixture when the Bondo was drying she asked, "Why did you make the hole so big, if you're just going to fill it in again?"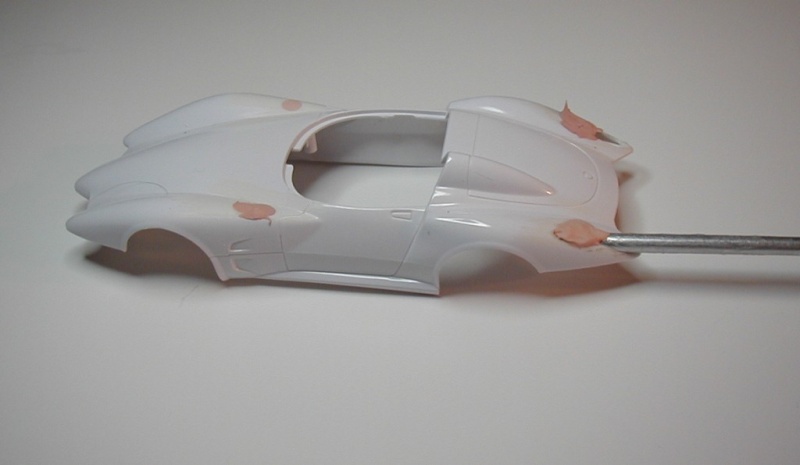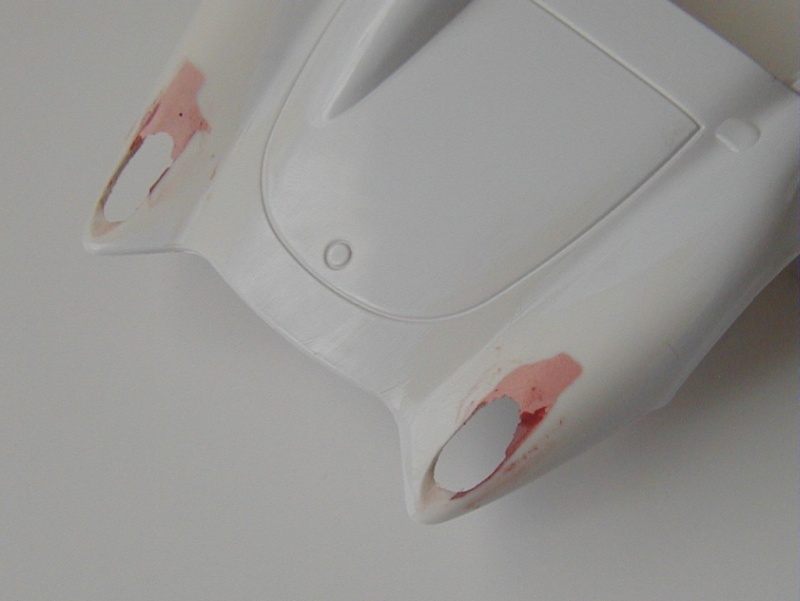 Being a real glutton for punishment, I slicked up the tube again and mixed up some more Bondo. Here are the results.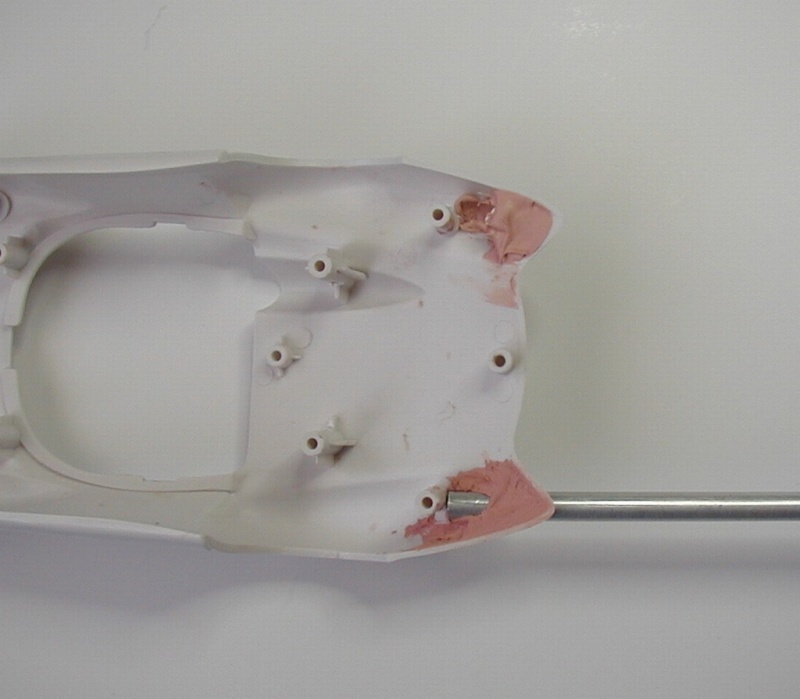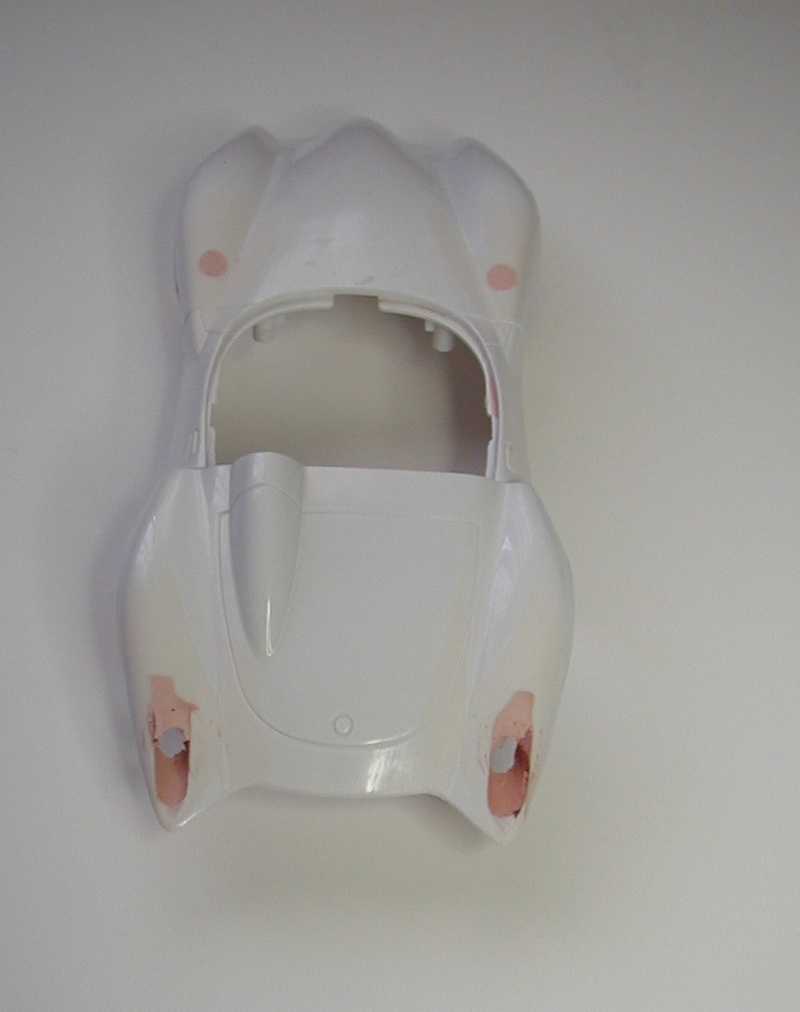 Next I drilled holes for the headlights and gauges on the dash. It was blank originally and no decals were provided.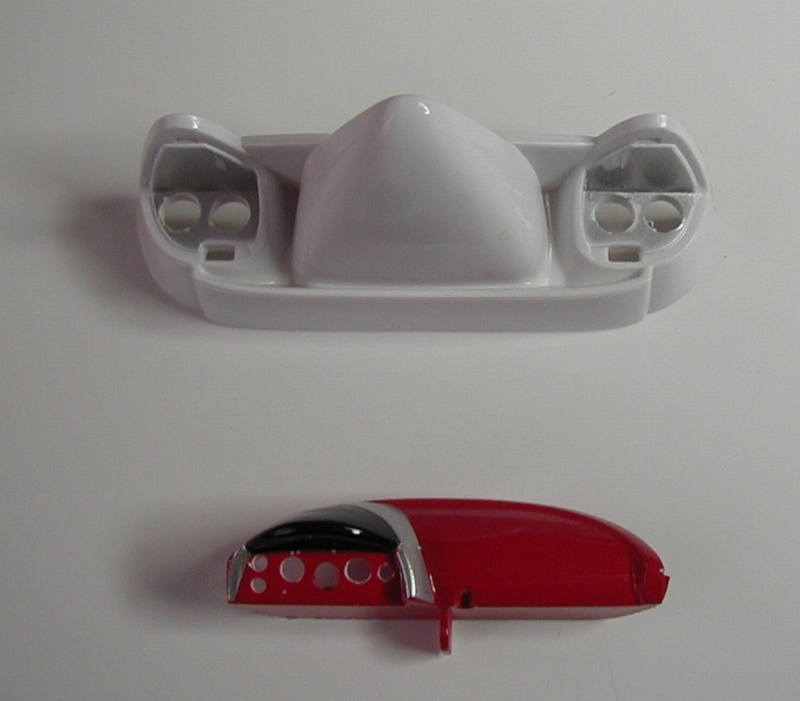 I put some primer on it. I used my cardboard box in the basement, while the wife was away.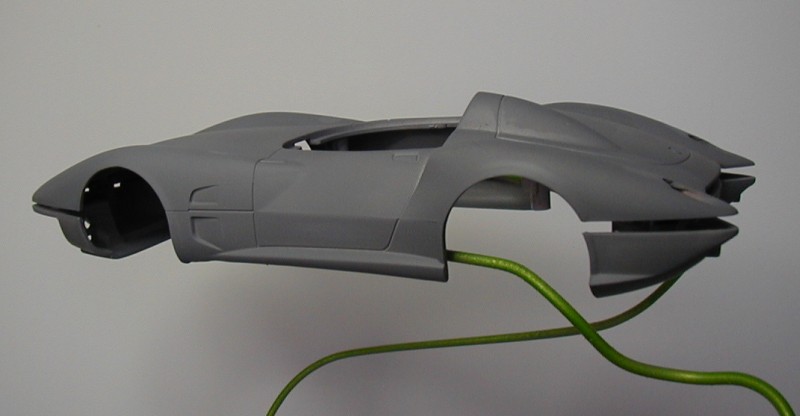 While the body primer was drying I moved on to the interior. I wanted to try something new for me. I used self sticking medical tape to add some texture to the interior.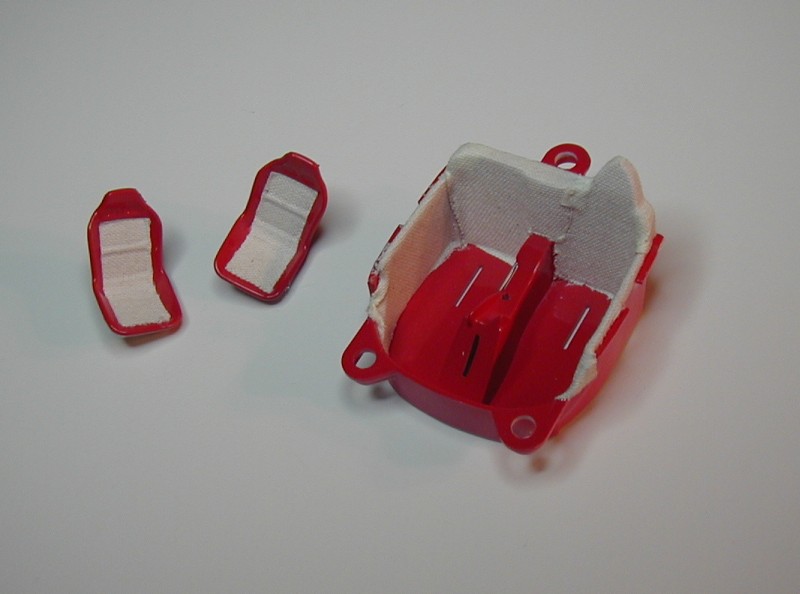 After adding medical tape to the seats and interior, I painted them with Folk Art 2225 Ocean Cruise acrylic paint that I bought at WallyWorld for under a dollar. I had previously drilled holes in the dash for instruments. I now filled the holes with Model Master Clear Parts Cement & Window Maker. I then shortened the shift lever, added some stick pins for dash, console buttons, and a turn signal lever. Finally I modified the dash and mounted one of the original fender mirrors for a rear view mirror.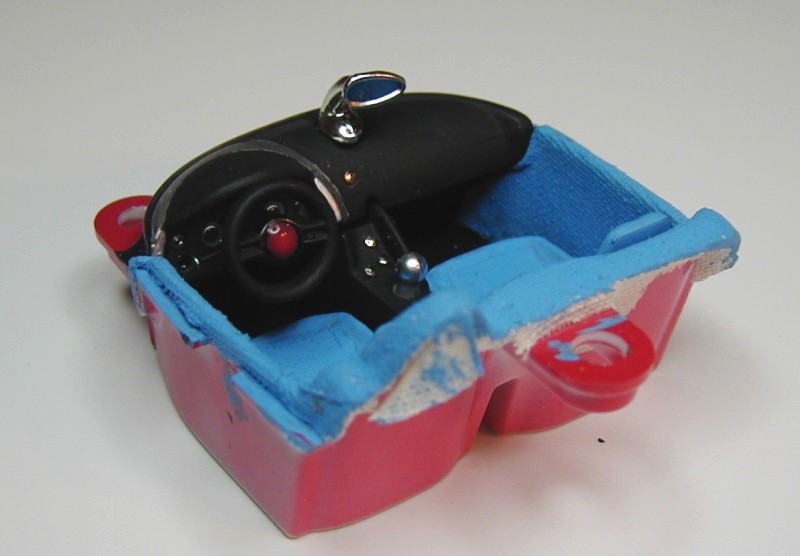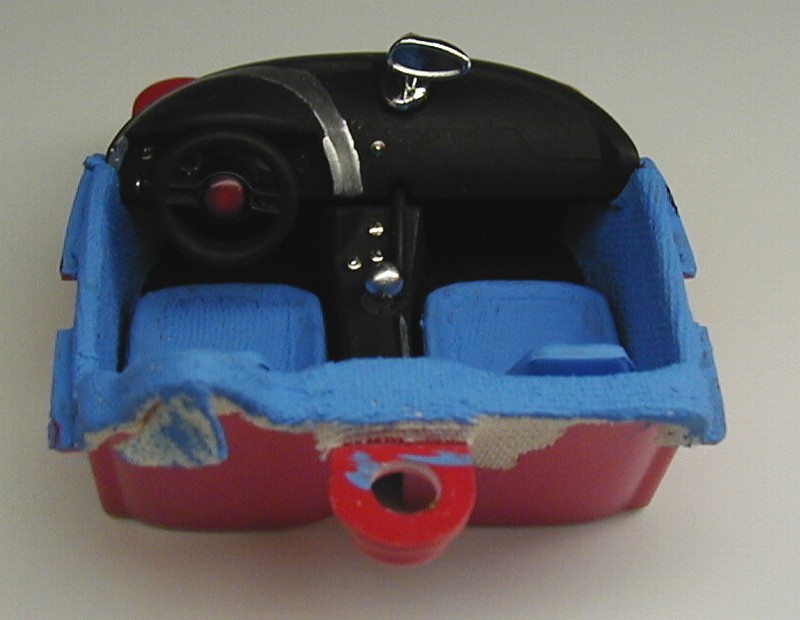 This is a mock up of the rolling chassis. The battery is in the rear. There is more room in the front, but the battery will not fit between the body mounts. Even the rear body mounts had to be modified to make the battery fit.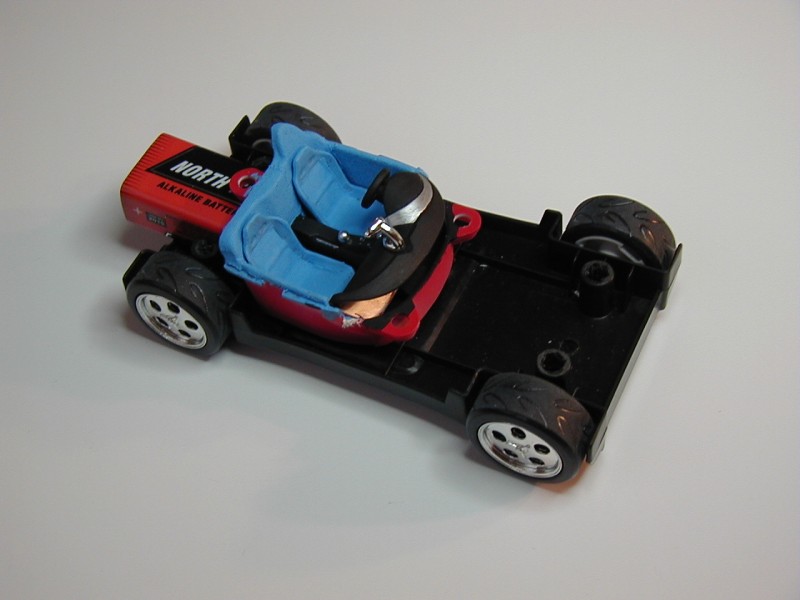 It's amazing what I notice after I post pixs. I noticed the tread pattern was wrong when I saw the mock up pix. They have been changed.
I sprayed some rattle can paint on it the other day. I let it sit for 36 hours and now it's baking on my improvised dehydrator, a floor heating vent.
As you can see, I used a trusty coat hanger to hold the body for painting. The front and rear lower panels are also in approximate position. See above pix of body in primer. This is so the paint will match when it is assembled.
I tried Testors One Coat Lacquer for the first time. I must admit I was impressed. It did cover in one coat and shined rather well. Since it covered so well, one of those little 3 once cans could do two or three bodies. First I used Dupli-Color gray primer sealer, because of some body mods. Then I sprayed one coat of Lime Ice #1835M. It has a lot of gold flecks in it. Then I sprayed it with a couple of coats of Dupli-Color clear. I am pleased to report there were no bad reactions between the paints.
The pix shows just one coat of paint. No clear. It was done in a cardboard box in a chilly basement.
After finishing the paint, I started working on the lights. What was I going to use for lighting? I had purchased some LED X-mas replacement lights months ago, but hadn't looked at them since. That was the first time that I saw replacement Xmas LED bulbs for sale. I found them at Menards, a home improvement center owned by NASCAR driver Paul Menard's billionaire father. They come in 3-packs. All white, all red, all blue, and a green/orange/and yellow combo. They are about 5mm across. Best of all they are only $1.19 per 3-pack. They are rated 2V for red and 3.4 V for white. All the colors say "0.02 amps max".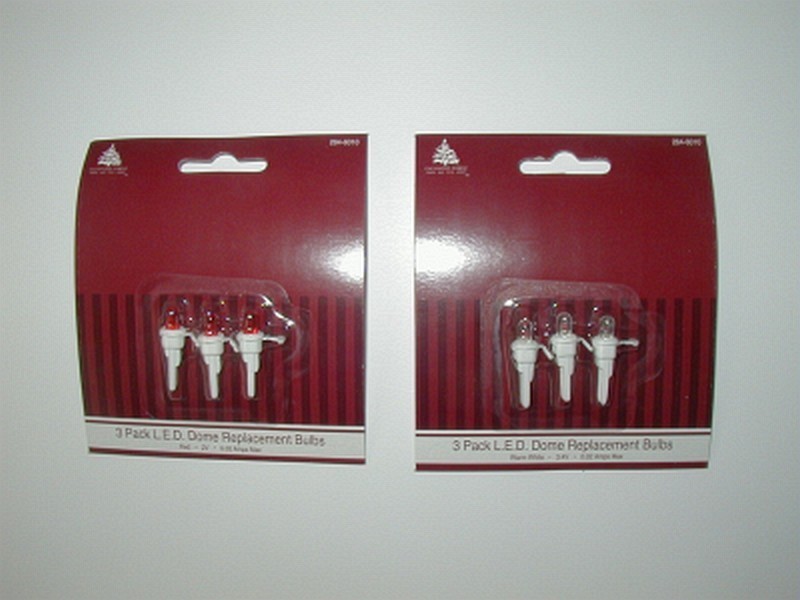 So I hauled out my bag of lights and 30 gauge wrapping wire (spark plug wire) and a 9 volt battery. Someone, on another site, was very good at explaining that LEDs need a minimum voltage to work, however too much and they will blow without using a resistor. I lucked out. I added up the voltages of the lights I wanted to use and found out I didn't need a resistor at all.
1 red bulb @ 2volts + 1 blue bulb @ 3.4 volts + 1 white bulb @ 3.4 volts = 8.8 total volts.
The bulbs do have a resistor already mounted to them. I just ignored them. I just made sure that they were mounted in series. Therefore the wire connected to the resistor on one light, goes to the wire without the resistor on the next light. If the lights do not work when you connect them to the battery, reverse the wires at the battery. If an individual light doesn't work, reverse the wires to that light. This is fun.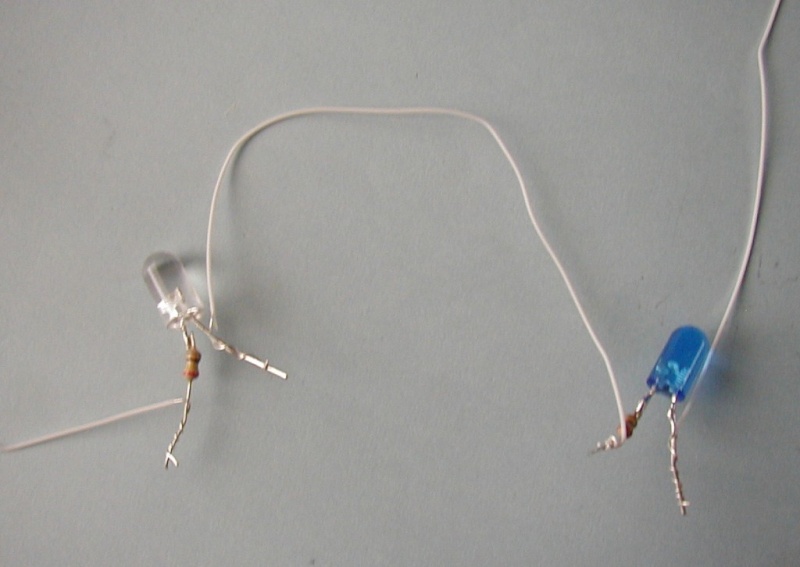 Just out of curiosity I tried three 3.4 bulbs = 10.2 volts. It shouldn't have worked. But it did. That's good. I can use that. Turns out that that little resistor cures a lot of ills and makes these particular lights perfect for most applications.
So I started by making new longer tail light housings. I then inserted a red LED into each one. Next I painted the backs of the tail light LEDs and most of the head light LEDs, with silver enamel paint, to prevent unwanted light scatter.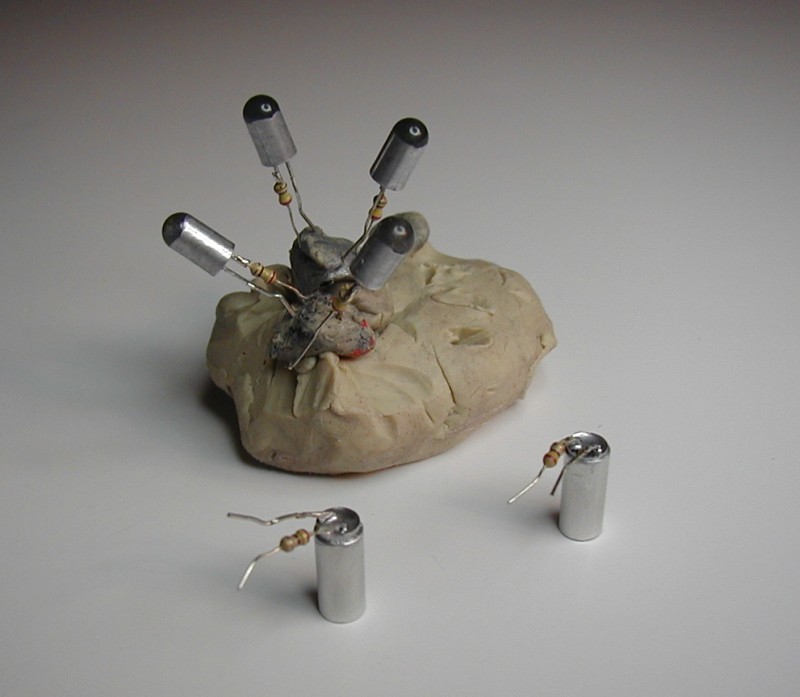 Next is a pix of the first complete lighting system test. Surprisingly, it was successful. I just have to figure out how to cram it all into the body shell.
Here is the wiring diagram. There are twelve lights in total. I used four parallel sets of three lights in series.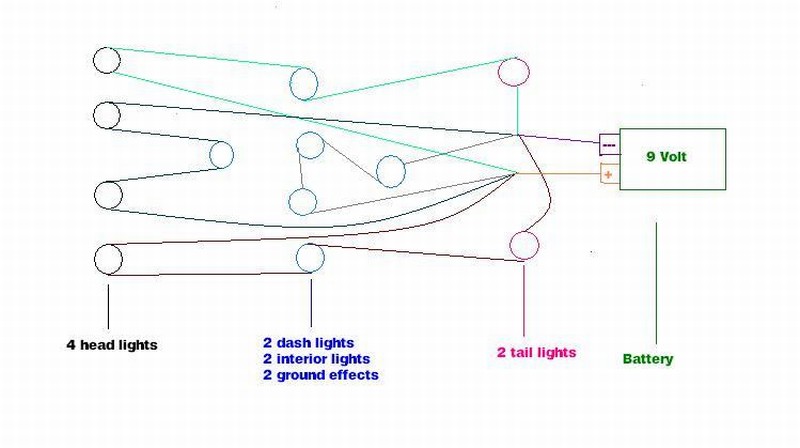 Once again, I'm amazed at what I don't notice until I post pixs. I forgot to paint the rear of the head light closest to the bottom of the pix. Notice the unwanted light scatter.
Racing teaches you that nothing is lighter nor cheaper than nothing.
I just have two bare wires sticking out the bottom of the floor pan covered with a piece of electrical tape. I just cross the wires to turn the lights on and uncross them to turn them off.
Here is a pix of the lights test, just before final assembly. It has an artsy-fartsy look to it. I like it.
You can see how the lights under the base of the windshield light up the outer edge of the windshield. A very kool effect, related to how fiber optics work. Yes, this was done on purpose. There are also ambient mood lights on the floor.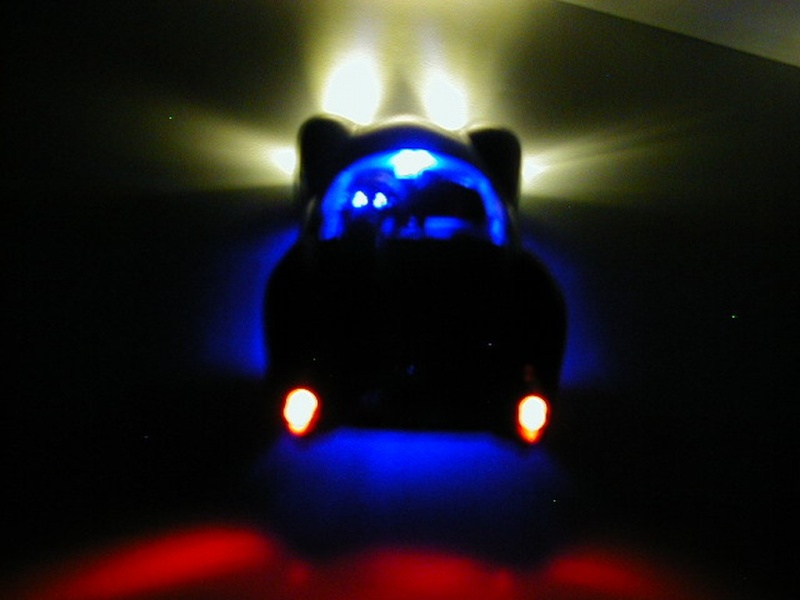 This is a list of what I used and what it cost to build my Mach 5.
Like most of us, I do have some things on hand already and won't be counted in the cost. These things I already had were, a partial can of grey primer, silver paint, flat black paint, semi-flat black paint, 4 stick pins, two-part Bondo spot putty, #400 sand paper to sand the Bondo and prep the body for primer, two emery boards - one to scrub in the tires and one to reshape parts of the body, a piece of aluminum tube, some wrapping wire (model sized spark plug wire), super glue (50 cents a tube at WallyWorld), some self sticking medical tape, and various tools.
The things purchased specifically for this build were:
Jada Mach 5 kit. On sale for $4.98.
Testors one coat lacquer in Lime Ice spray paint. Bought at Hobby Lobby with 40% discount coupon for $3.00.
Ocean Cruise acrylic paint was bought at WallyWorld for 97 cents.
Five 3-packs of LED x-mas replacement bulbs were bought at Menards for $1.19 each, for a total of $5.95.
One 9 volt battery at the dollar store for $1.
For a grand total of $15.90. About the price of seeing a movie.
In other words, a project doesn't have to take a lot of time, be overly difficult, or very expensive. Just thought I'd share these numbers with you, in case anyone was interested.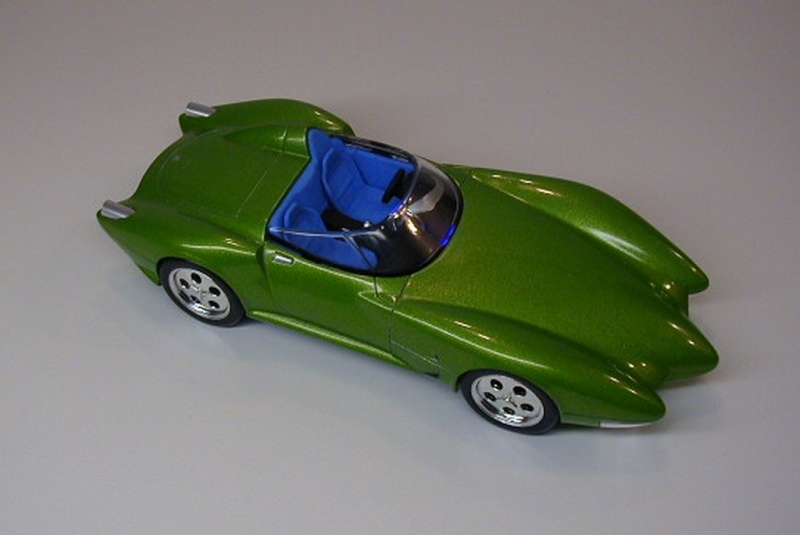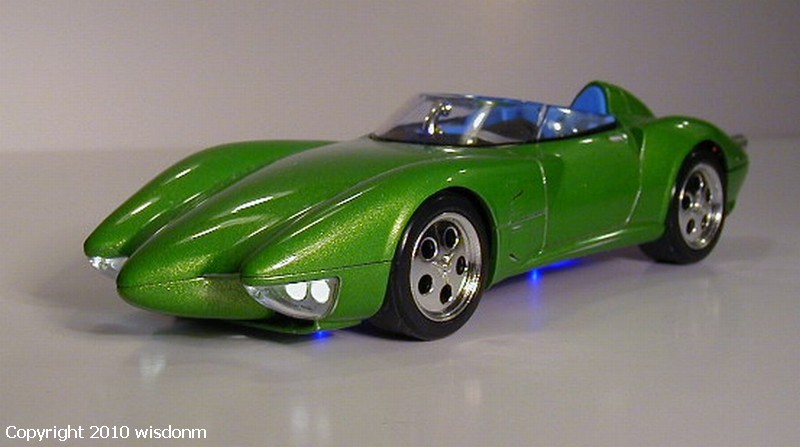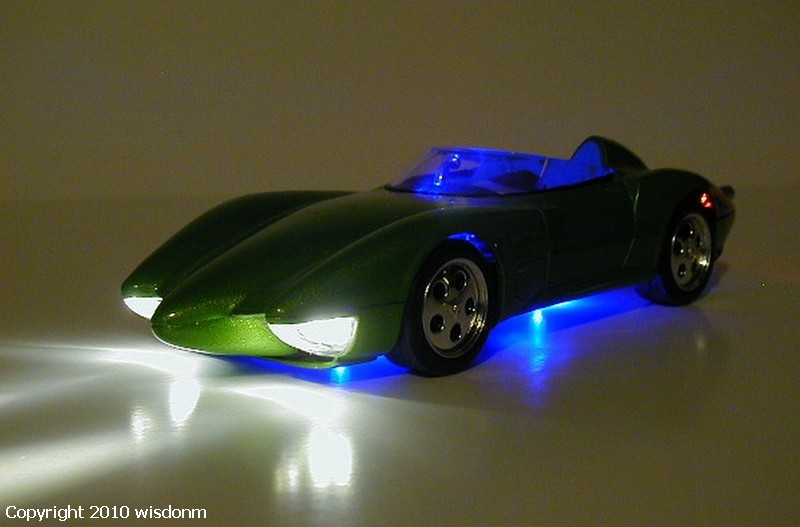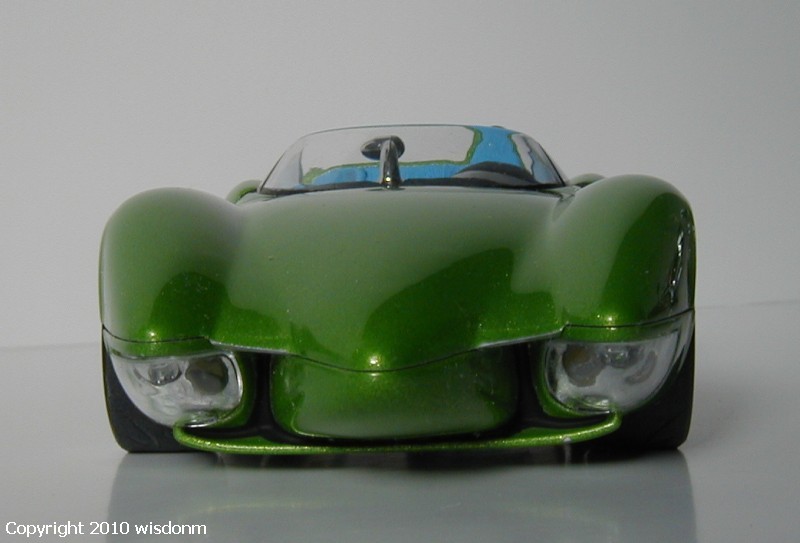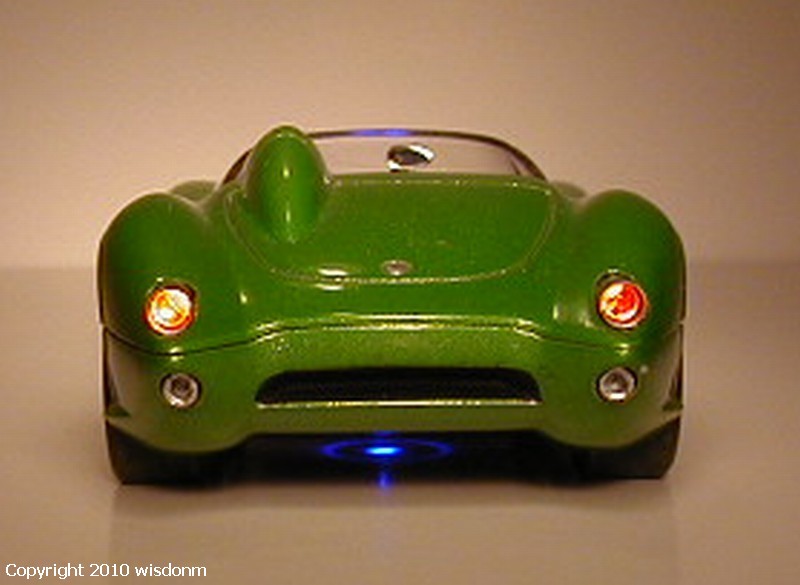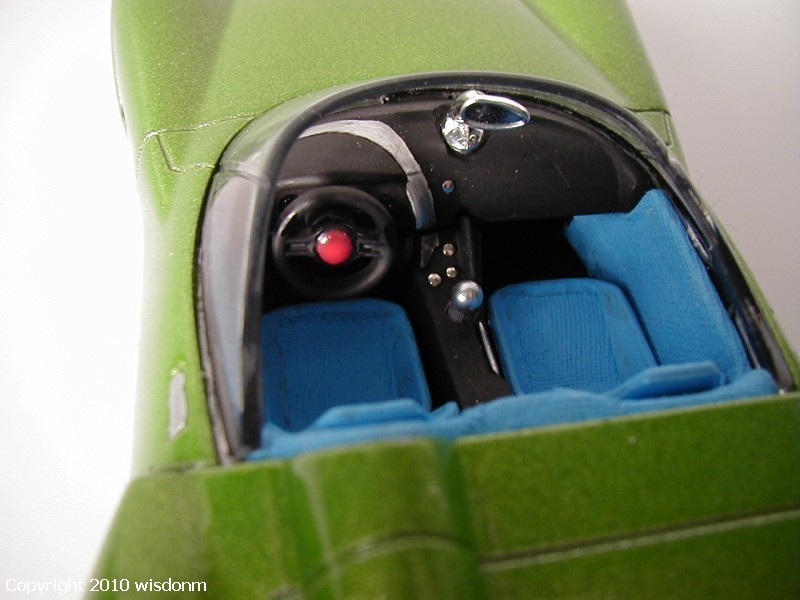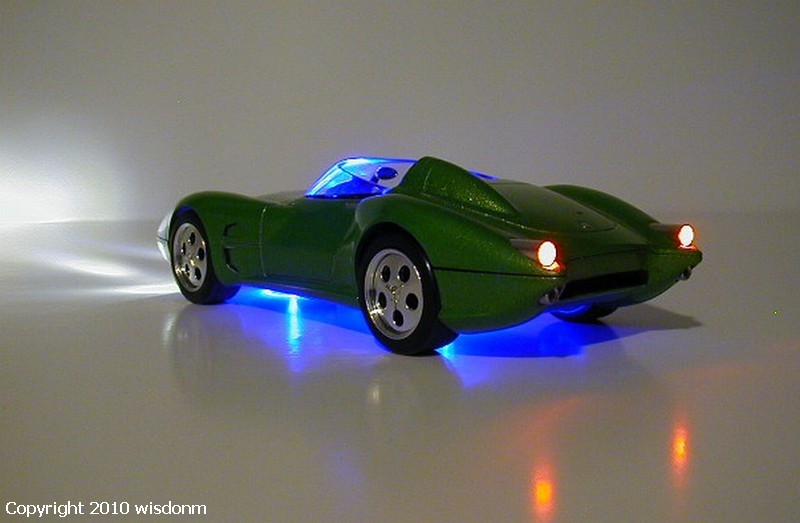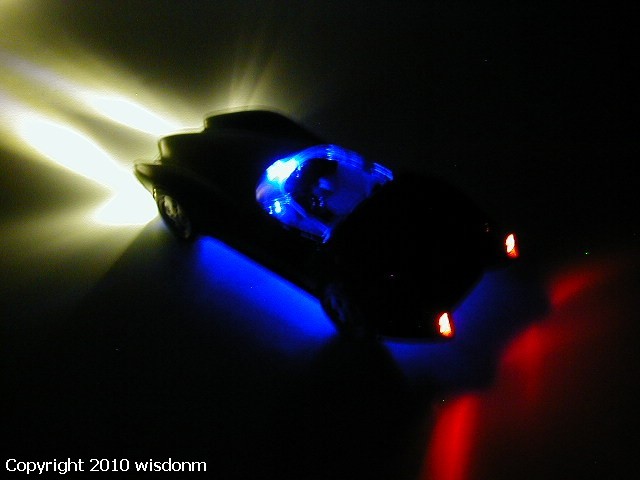 Follow this link to
Advanced LED - Mach 5 part 2: electrical upgrade with a 4060 chip