This month I am taking over the limelight duties while Al has a rest. All of our members would have come across Beowulf from time to time. His modelling interests extend from military to bikes and vehicles. I have known Paul for about 6 years and he has been a great asset to both Skids and eScale. We have never personally met and we live on different sides of the planet but I am happy to call him friend.
Real Name:
Paul
Place of Residence:
Currently Hartlepool in the North East, just 'down t'road' from Al. I'm originally from Nottingham and moved up here nearly 2 years ago for a few reasons
Interests:
Other than model making I don't have many........I'm a bit of a reader.....I like science fiction but got into crime novels last year after reading all the Anne Cleeves novels (she is a local author...wrote the Vera and Shetland series of novels that have been made for TV)...currently coming to the end of the Lewis Trilogy by Peter May
Occupation:
Quality Control Technician.
It sounds like you had an interesting occupation, would you care to expand on that a little please?
I've worked in QC or QA all my life. Started out in textiles, moved to automotive (I had built a few kit cars and I think it helped me get a QA job at Toyota).  I'm currently working for a company that makes bits for Nissan, Honda, Toyota, Renault and BMW Mini. Has its interesting moments, back when I was at Toyota I did stuff like high speed test track driving to test new vehicles for defects (that got really boring very quickly believe it or not).
I did take the Queens shilling too back in the 90s......was an Auxiliary in the RAF Regiment (for the Americans on here that's like the Air National Guard)....sort of family tradition, serving in the Armed Forces.......my brother did a spell in the Army, Dad was RAF Technician during WW2 (actually worked on the Kings aircraft once when he visited dads airfield and the Anson went unserviceable) my granddad was in the trenches in WW1 and then the Home Guard in WW2, Great grandfather was a RSM in the army at the turn of the century, he went to China as part of the force that put down the Boxer Rebellion.....my Grandmother was born on the troop ship in Malta on the way since as he was a senior NCO he was allowed to take family....she didn't see England til she was about 6 years old.....swmbo has been researching our family tree and she is pretty certain my great great grandfather was in the army too back in the second half of the 19th century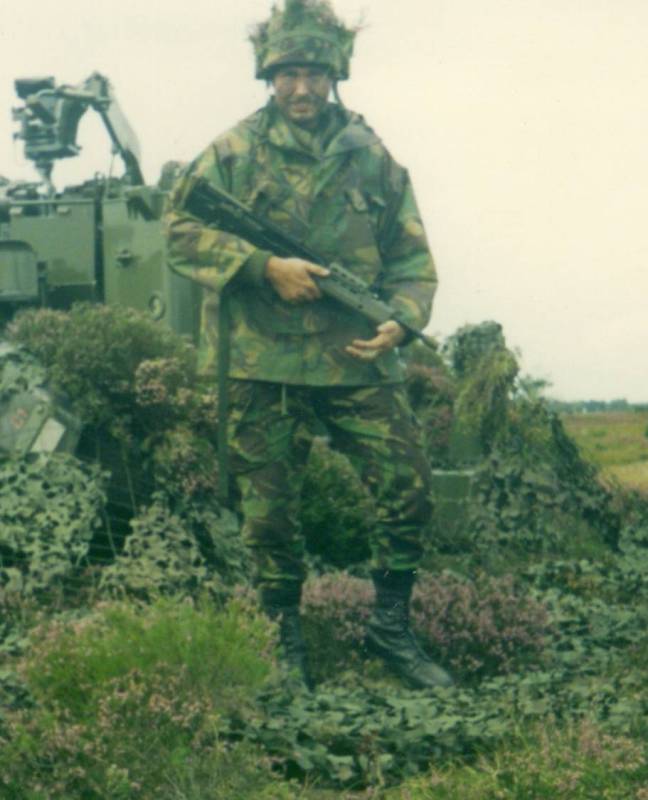 Most occupations come with some funny stories attached. Can you bring any to mind?
My first job was working in a stores for a sportswear manufacturer.......we used to get fabric  delivered from china in a cardboard carton.....6 foot high, 3 foot square, VERY thick cardboard......had a lad working with us who was a complete pain in the arse....nobody, and i mean nobody, liked him........approaching break time one day the rest of us bundled him into one of these boxes, taped it up really well and cut a 2 inch hole so he could breathe.............and left him while we went for a break apparently just after we left him the Managing Director happened to be walking past, heard the whimpering and asked who was in the box..............and said 'don't worry, I'm  sure they will be back soon' and walked away!!!........like I said, no one liked this lad lol.  These days you would get done for bullying in the workplace if you tried something like that.
Beowulf is an interesting alias. Would you care to share a little about the history behind this?
I've pretty much always used Beowulf as a name on t'internet.....when I signed up for my first forum a loooooooooong time ago I obviously needed a username......didn't have a clue what to use, I was reading some of the 'Known Space' novels by Larry Niven who is a fave author of mine.....there's a reoccurring character called Beowulf Shaeffer and I just used half of that....most people think its from the Old English poem of the same name (which if you know Larry Nivens novels he takes themes from it often anyway lol)
When did you build your first model and can you remember what it was?
sheesh!, now you are asking!! lol..............it would defiantly have been Airfix, probably a Spitfire or Hurricane or Typhoon when I was a kid it was only Airfix or Revell in the local shops. I can distinctly remember my older brother making all the Aurora horror figures....Dracula, the mummy etc and some motor bikes and planes so I guess it was him that set me off.  I have a very clear recollection from when I was about 10ish of building an Airfix Bristol Belvedere which was a twin rotor helicopter and getting annoyed cos the rotor blades wouldn't stay glued on! From the days before patience and ca adhesive lol. Gave it all up when I was about 17.......bikes, beer, girls, cars, exams, work etc was more important lol.......got back into it in 2007....usual story, went through divorce, moved into my own place, found a Tamiya Lotus 7 kit that someone had bought me as a present years before, thought it would keep me occupied for a few nights.....been hooked ever since lol
What sports do you play or watch?
Haven't played sports for a long time as I have some health issues...........big fan of MotoGP (long time Valentino Rossi fan)......used to follow rallying and Touring  Cars but these days it's just a lack of time, even following on tv I just don't get to watch
What type of music do you favour and who are your favourite artistes?
Very varied!  I like rock/metal in its various genres......faves are Black Sabbath, Metallica, Rammstein
I also like rockabilly, ......like The Go Getters who are a Swedish band.....the front man, Peter Sandberg is a hot-rodder, his cars often feature on album covers etc. My guilty pleasure is British folk music.....huge fan of Julie Fowlis who only sings in Gaelic
Which are your favourite foods and drinks?
There's not much i don't like..........love Italian and Chinese but you really can't beat a roast dinner with all the trimmings.  As for drink....sore point as at the moment i can't drink much, as it has strange effects on me ....not sure if it's the medication or the condition..........but i like single malt whiskeys and rum, and stouts.
Thinking of famous people, who would you most like to meet (past or present) and what would you like to ask or say to them?
Barry Sheene and Valentino Rossi......not just cos they are both heroes of mine but cos I know Barry is a hero of Vale's....would be great just to sit back and listen to the two of them.
Billy Connolly.....funniest man alive!.....can't help but laugh listening to him.
Marooned on a desert island which luxury item and which essential item would you take with you and why? (No means of communicating with the outside world is permitted)
Essential item would be a machete.....use it for making everything luxury item is a hard one......one of those wind up, clockwork powered radios
If you could visit anywhere in the world, where would it be and why would you like to go there?
There's a few places.  I'd love to visit the Falkland Islands, I have tenuous links there, always been interested since the War.
Australia is another......I know people in Sydney, Melbourne and Brisbane and would love to go and say hi for real but I'd like to turn it into a mega road trip..........I remember seeing a programme years ago how Australian senior citizens were selling up when they retired, buying a camper van and just going off on a permanant road trip since there is a single road that circumnavigates the edge of Australia......ever since then I've fancied doing it.
If you ever come to Sydney I would be happy to show you around. Melbourne is a lovely city, I go there regularly. Great restaurants, trams and lots of model and military book shops.  What was the strangest experience you ever had?
Saw a UFO once..........and I wasn't alone, lots of people saw it, even made the local paper.
How many built models do you have in your collection, which are your favourites and why?
I can be quite precise about this.....since I took up the hobby again back in 2007 I have built the following....53 cars, 14 motorbikes, 34 armour related subjects, 39 aircraft, 5 ships, 8 odds ......and there's 2 that I built when i was a teen so they are 35+ years old...found them in my mum's loft
there's been a handful that have been broken up for spares or given away over the years.  Oh...and the stash currently stands at 126......slowly reducing it lol.  As to faves.......don't think I have any really...there's  a couple of bikes I'm proud of cos i know I made a good job of them.
Which are your favourite films?
Number 1 is Akira Kurosawa's 'Seven Samurai.'  Others would be Blazing Saddles (always liked Mel Brookes movies), Monty Pythons Life of Brian and Holy Grail movies, Star Wars, Battle of Britain, Kelly's Heroes, Great Escape.
If you could change something about our hobby, what would it be and why?
I wish there was a way to get kids interested......these days if it hasn't  got buttons and a screen they don't  know what to do......and they aren't interested in history.....honestly think kids will grow up without any skills using tools....eldest grandson is 17, just started a college course to be a mechanic (sorry...vehicle technician as they like to be called these days) and he hasn't  got a clue to be honest.....I learnt the hard way....I was building kit cars in my mid 20s lol......box of tools, a Haynes manual and big brothers help when needed.
If you could have one wish granted to you, what would it be?
That I had met Ros, my partner, 28 years ago instead of 8
People involved in our early lives often have the most influence upon us. Would you care to tell us who that person was for you and why?
Guess that would be my mother.....taught me how to spot a bargain, how to be grateful for what you have and how to make the most of it....she died only 4 years ago in her mid 80's....i miss her a lot
What was the daftest thing you ever did that you care to admit too?
Not so much daft as stupid.
erm......hitting almost 150mph on the Queens Highway and getting away with it, about 13 years ago.
Finished work one Friday night shift......got out of the factory at 3am Saturday morning......roads were utterly empty.....the A38 is a lovely 3 lane well lit road and I had a 4 month old 2 litre Avensis and I went for it......I'd been doing a lot of test track driving at the time.......you spend 6 hours going round a banked circuit at 70 mph and you get used to speed..........and the A38 section I used was about 9 miles long....car maxed out at about 147ish.....then never dropped below a ton down the A453.....i look back and shudder, totally stupid thing to do (although I happily used to do 80 or 90 on a bike on the same bit of road lol) .....wouldn't dream of doing it now....wouldn't  be able to!!....speed cameras everywhere.....how I got away with it I will never know...these days I'm more interested in getting 70+ to the gallon! lol lol
Thanks Paul for putting in the time to do this.