As the title says, this is my way only. Others will have their own methods but I'm happy with mine for now.
What you will need: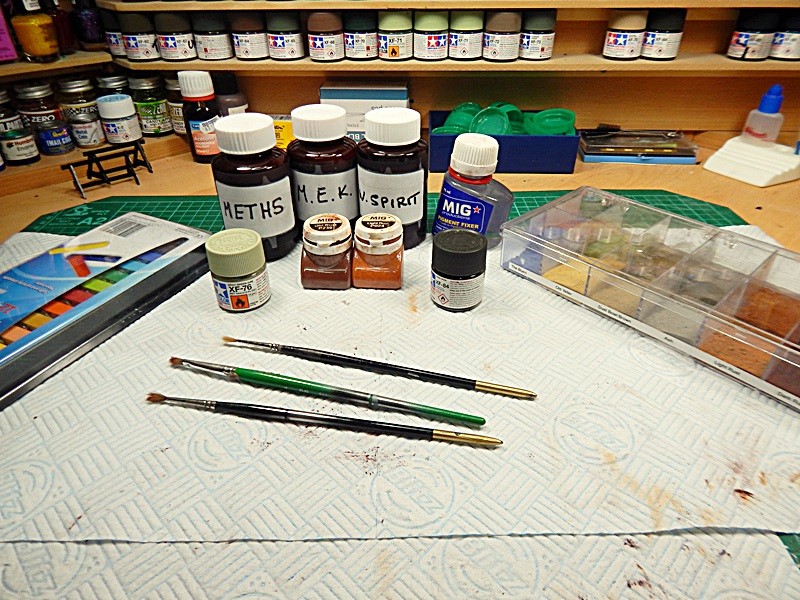 1: Pigments. Commercial or ground pastel sticks. (The large box of pigments are Bragdon Weathering Powders sent to me by JohnJ)
2: A selection of old brushes. Some soft, some stiff.
3: Your chosen base colour. Flat or dull coated gloss.
4: Pigment fixer. This can be Methylated Spirits, White Spirit, MEK or a commercial fixer such as MIG or AK Interactive.
5: An airbrush. It can be done without an AB by using brushes but it's easier and faster with an AB.
When using fixers be sure to test them first on your chosen paint, as not all are compatible with all paints. I only use acrylics for bodies and all the fixers shown appear to be safe with them but as I say, TEST FIRST!!
Before getting to the meat of this tutorial, let's take a look at how the different fixers react with the pigments.
In this photo you can see those effects: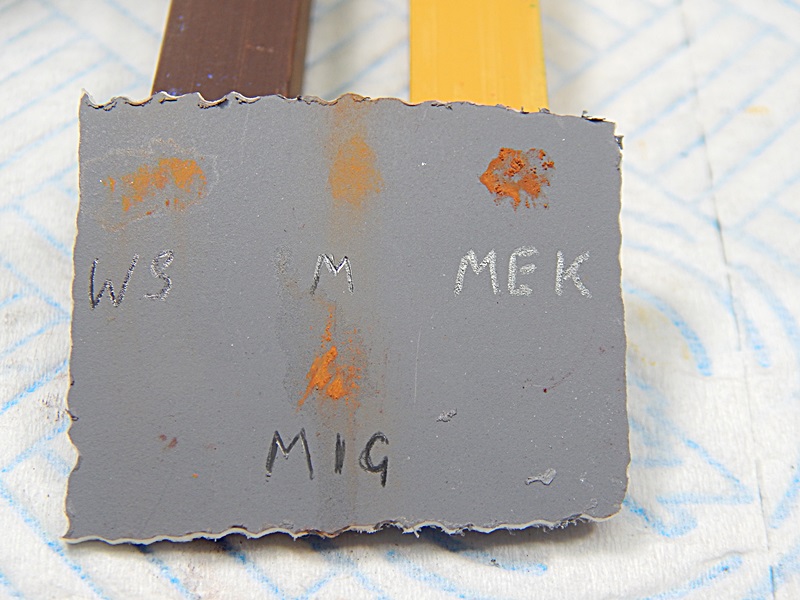 The powders were applied to a test piece sprayed with acrylic grey primer. The fixers were applied with a brush and when properly dry a large white brush was used to gently brush of any loose powder.
As you can see, the MEK is the most agressive fixer while the Meths will give the finest surface rust. The other two are somewhere inbetween. The MEK can be left as is but if you 'soften' the others you will need to re-coat with the fixer to 'fix' it again.
OK...that said, let's get started.
Prepare the body as you would for a glossy finish and prime. Spray your chosen base colour making sure you use flat paint. If you use glossy paint, the pigments will just slide off when you spray the fixer.
Here I am using Tamiya Dark Iron on one side and Tamiya Gray Green (UN) on the other.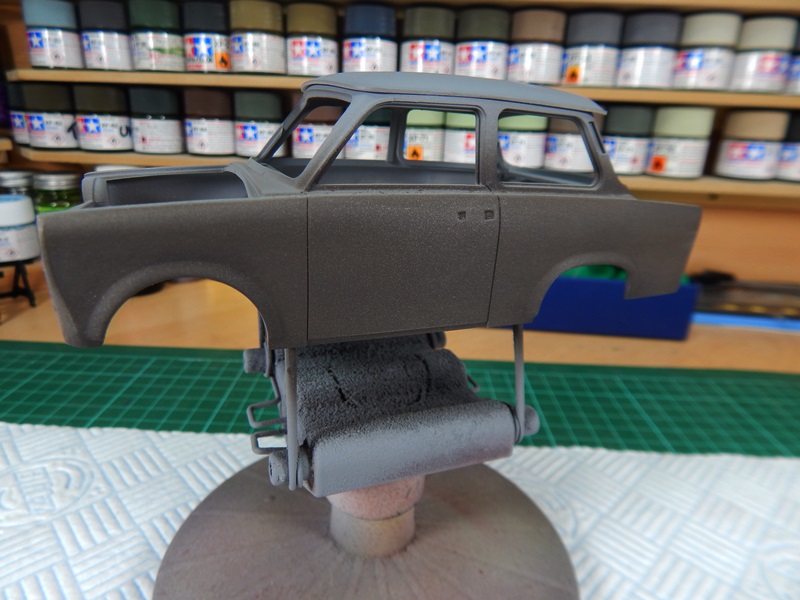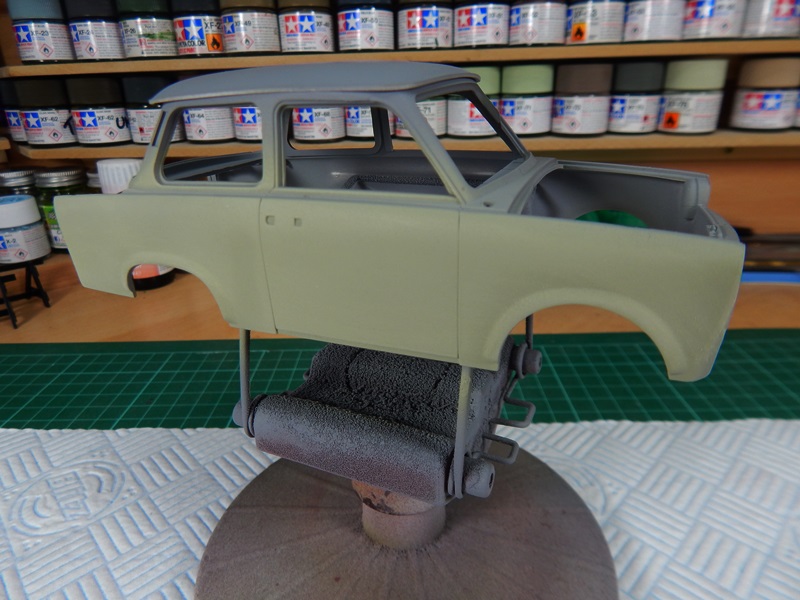 The Gray Green is simply a test for me for the forthcoming truck build.
Using a short stiff haired brush and making sure it's perfectly dry, pick up some of the pigment....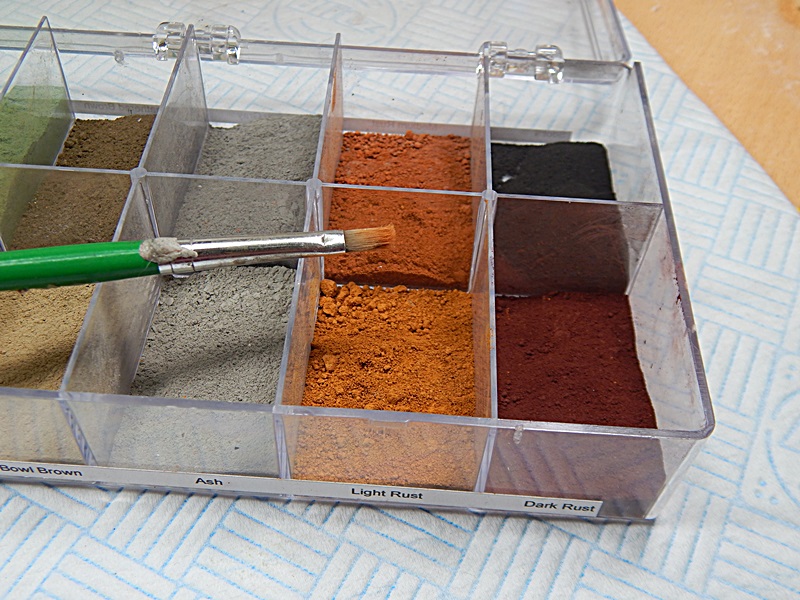 .... and dab it on wherever you want the rust. The more you 'dab' the 'fuzzier' the rust patch will be.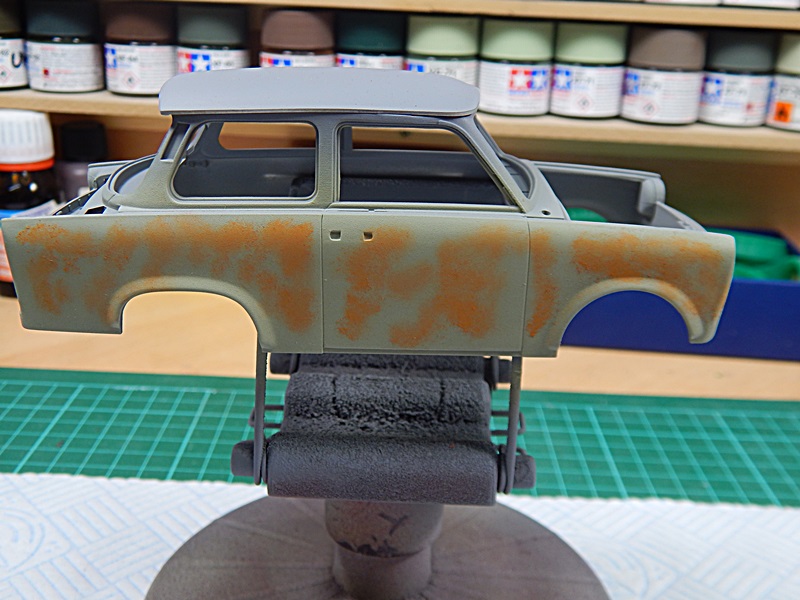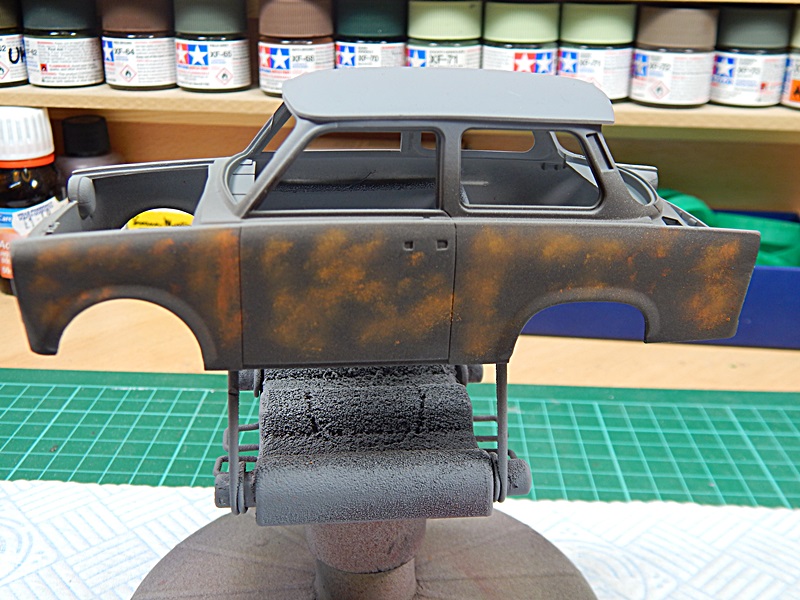 Once you are happy with your rust 'pattern' spray it with the fixer and let it dry. You can speed up the drying with a hairdryer.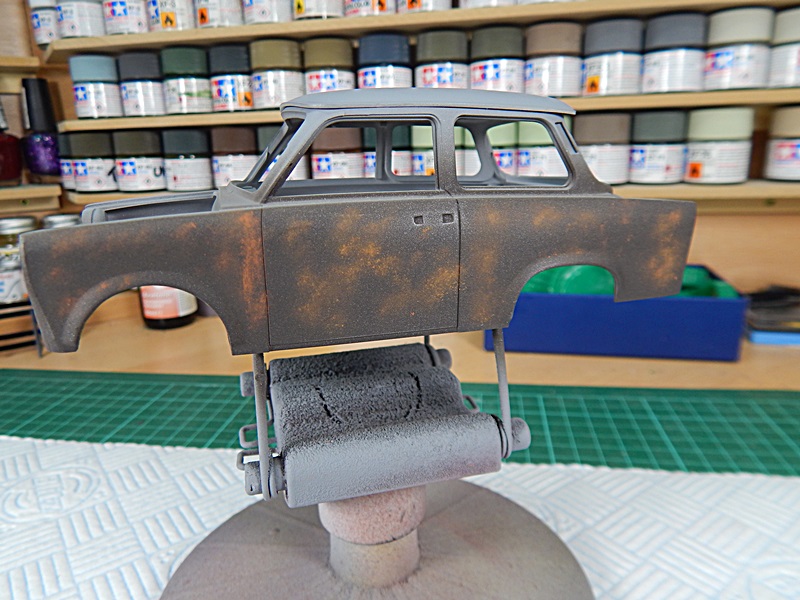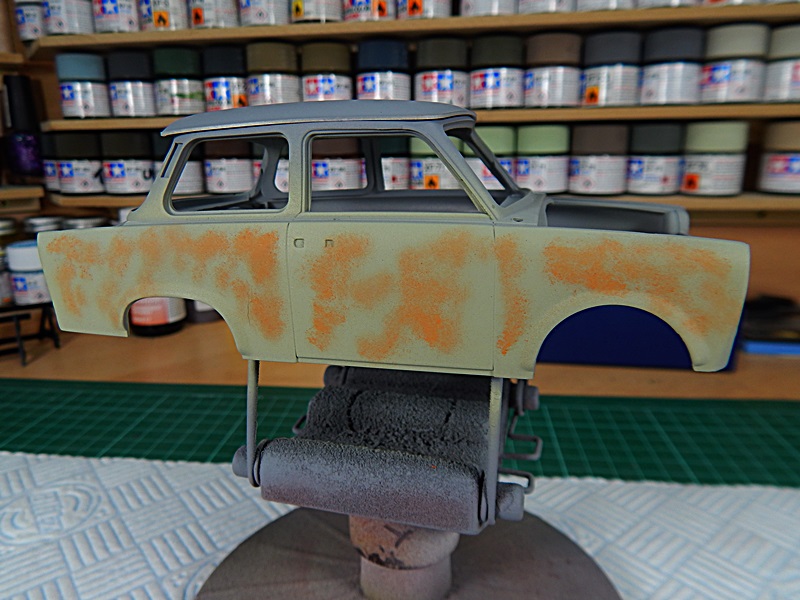 If you want to create some streaking, dip a stiff brush in the fixer, remove 99% of it on a piece of kitchen tissue (as you would with dry brushing) and use downward strokes to create the streaks. Alternatively, you can apply a large amout of fixer by brus and simply let it run.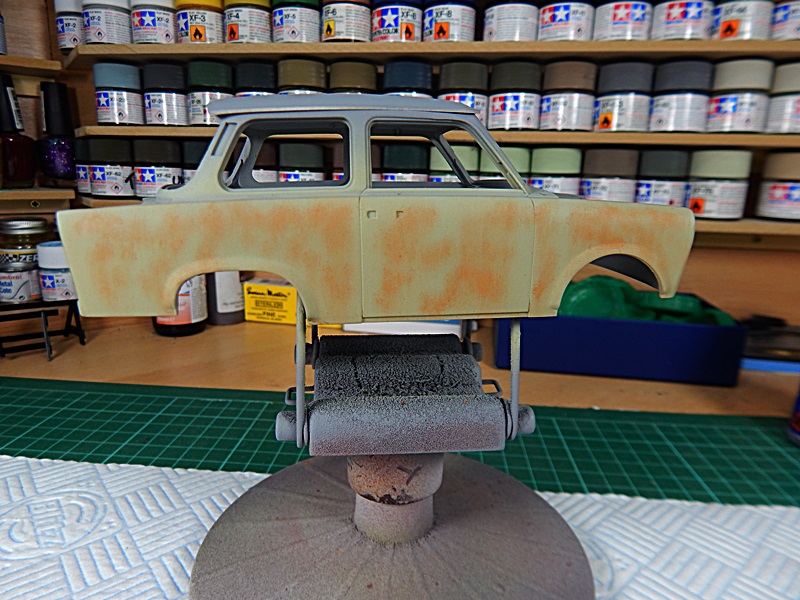 Now you can add the next shade (here we will stop with just two) and spray again.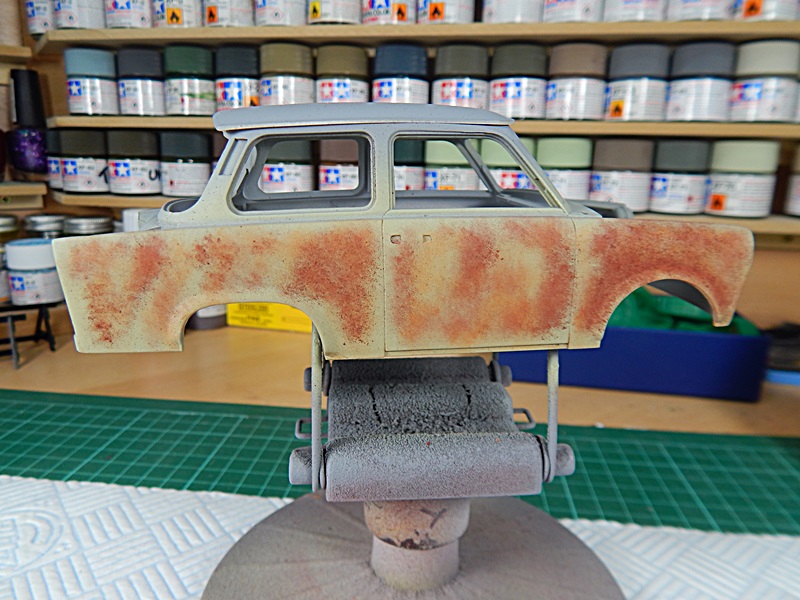 Now it's coming together.
One of the great things about this technique?..... you can re-work it any time you want and if all else fails, give it a light sanding, re-prime and start again. No need to strip.
Here you can see that the pattern looks a bit unnatural, so I have added some more pigment.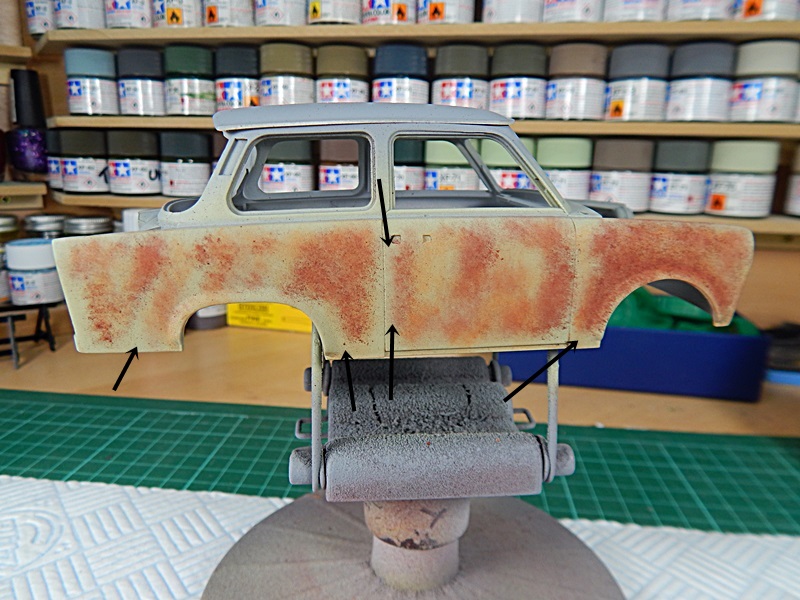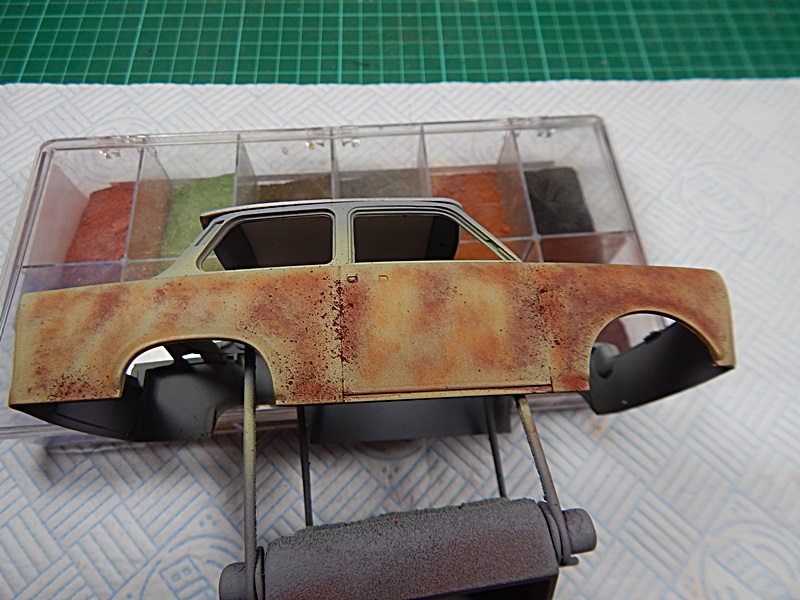 Then sprayed again.
If you want a little more texture, add the pigment but this time a little heavier.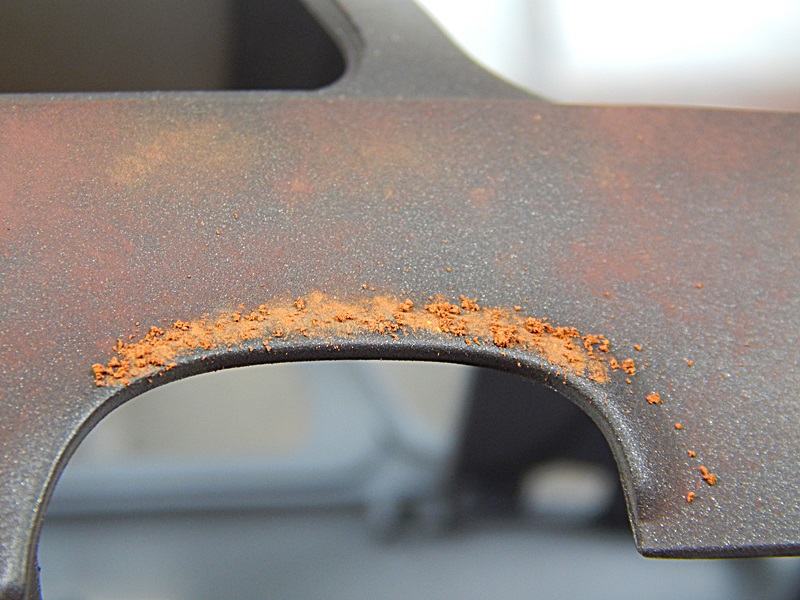 Once again apply the fixer. This time I use a brush to apply it, as you don't want the AB to blow away the large particles of pigment.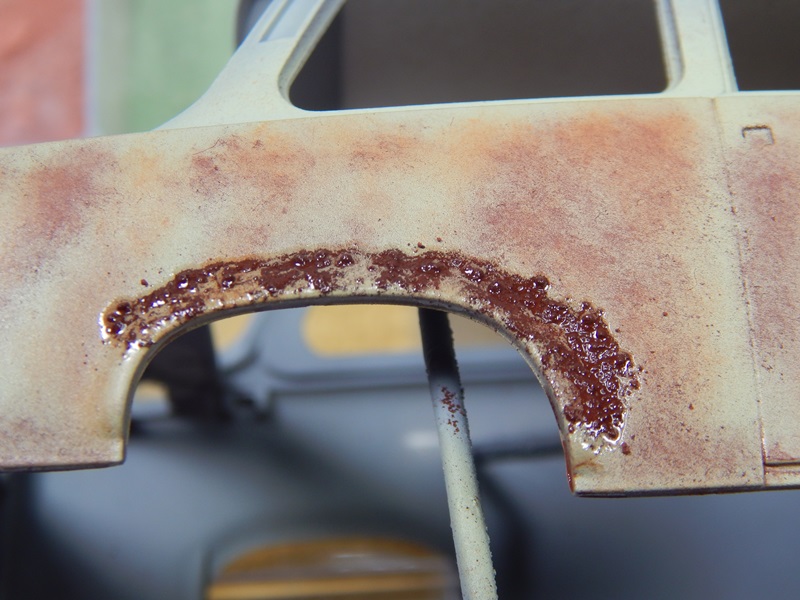 If it dries something like this...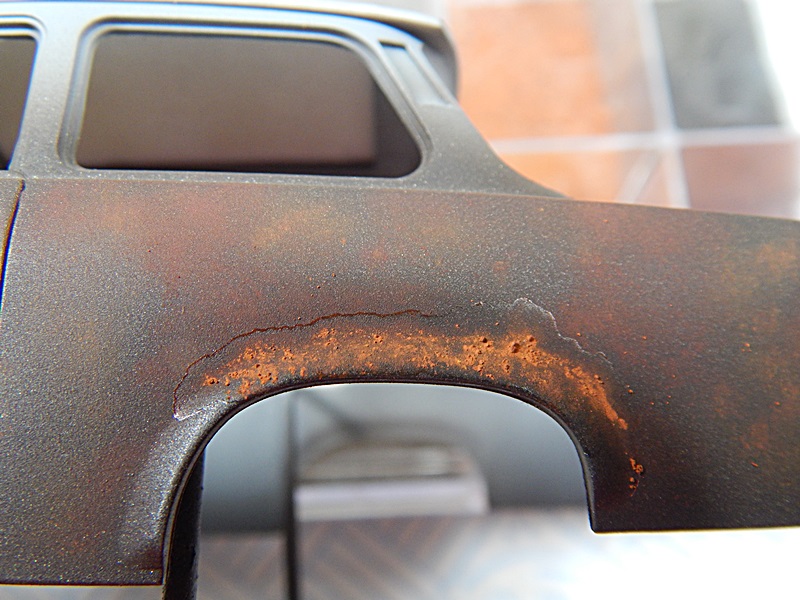 .... don't worry. Remember, there are no rules for this and if you look at enough photos of rusty cars, you will soon realise that there are innumerable effects. However, if it bothers you, simply dip your brush in the fixer, apply a small amount and use a hairdyer to dry it.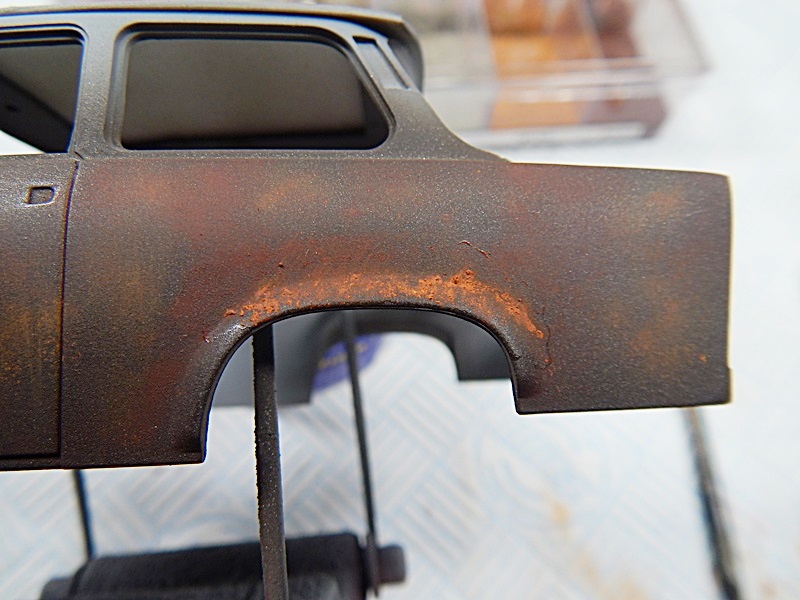 If it dries a little to rough for you...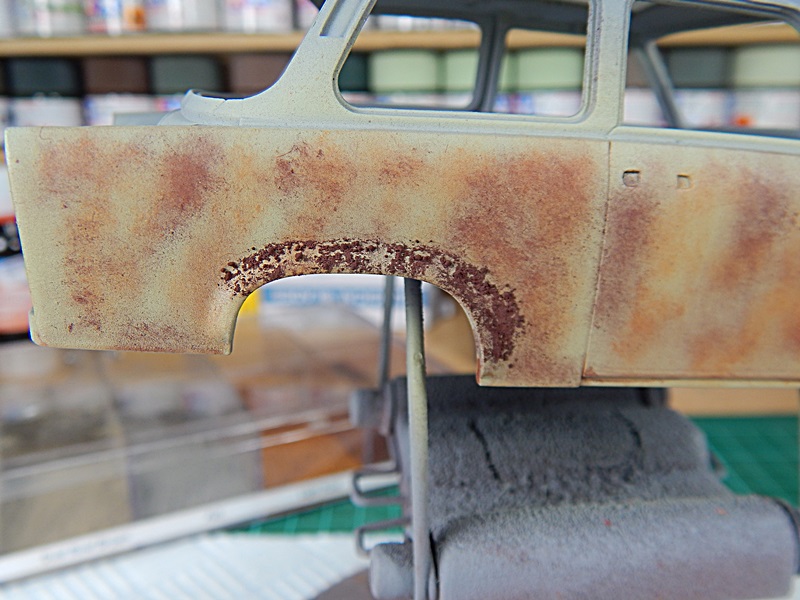 .... just take a stiff brush and gentle brush away some until you have it where you want it and spray more fixer.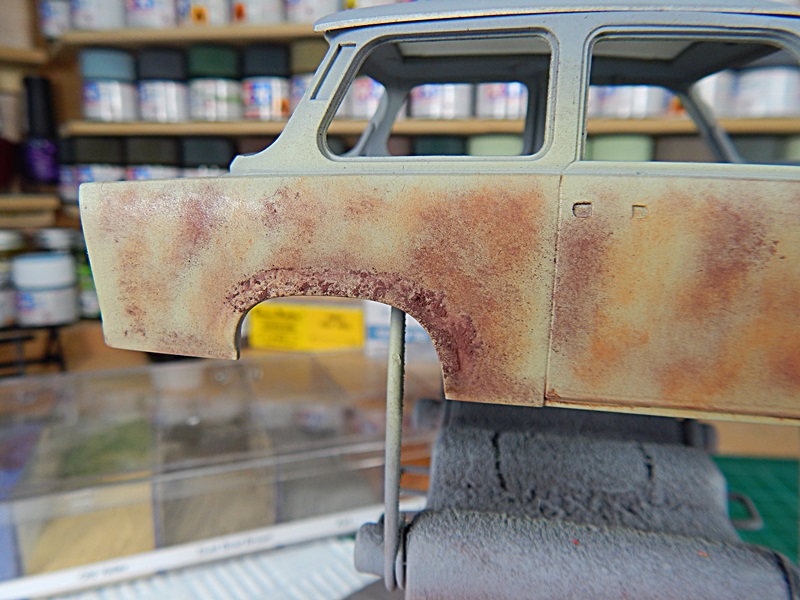 And that's it really. Just keep working it until you have it where you want it.
It can be light rust...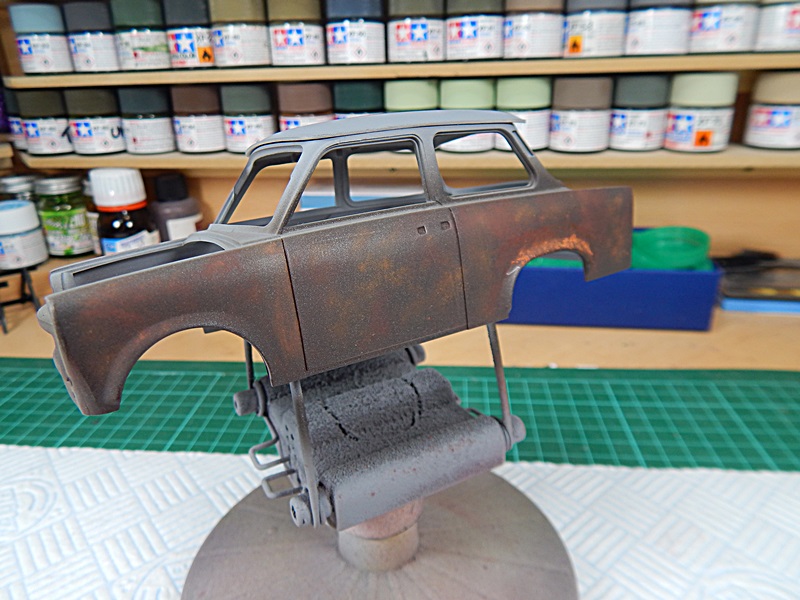 heavy...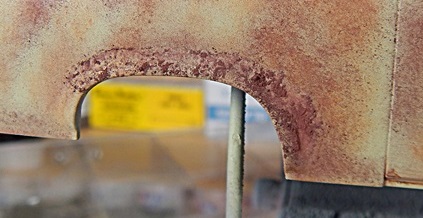 or somewhere inbetween...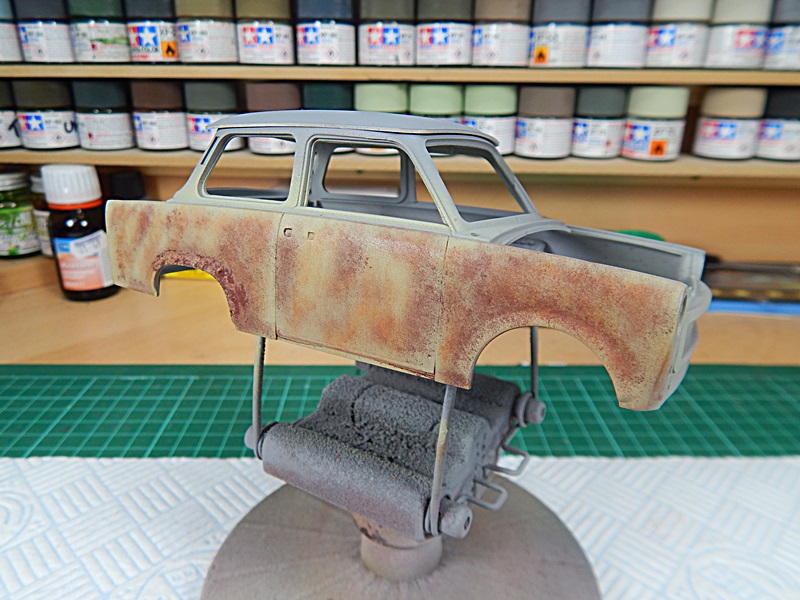 Finally, you can 'soften' the effect by giving a light sanding with 12,000 grit paper. Front sanded, rear left as is.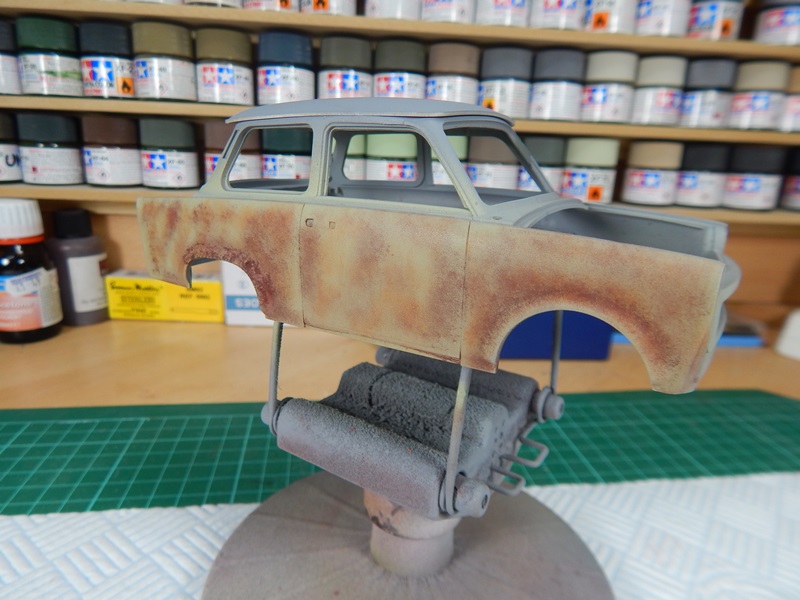 And if all else fails, just give it a light sanding, re-prime and start again. Of course the heavier rust will need a bit more sanding.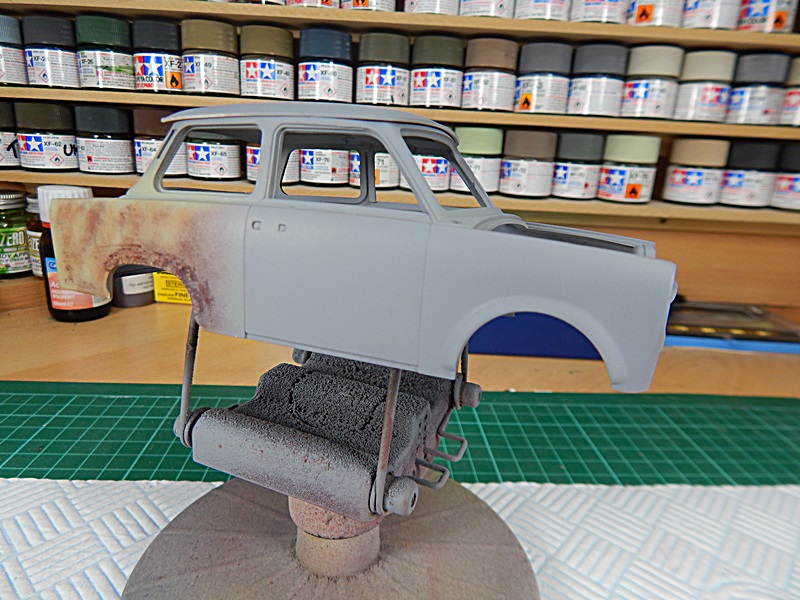 Good luck if you try this and don't forget to show us your results and anything new you learn.