Real Name:
John Andrew Griffiths
Date of Birth:

7th January 1966
Place of Residence:
Denbigh, North Wales (small town approx 11miles from Rhyl, everyone has heard of Rhyl so easiest way to explain where I am)...
Occupation:
Retired/Disabled (retired Royal Air Force Mechanical Transport Driver - MTD for short)
Interests:
Modelling, watching the Discovery Channels (a little sad I know, but I love watching them as I learn something new each time), Sea Fishing (although I haven't been since '06), People Watching...
Me Now...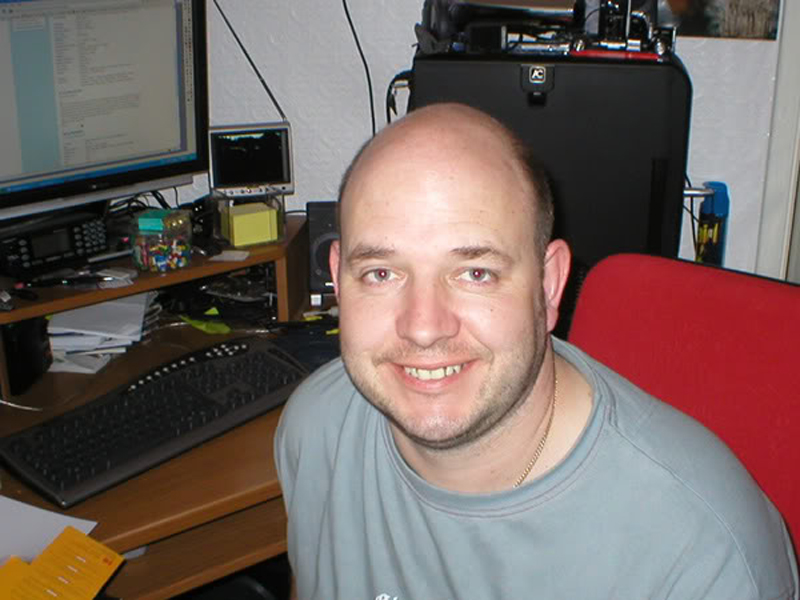 Occupation:
My past life as an MTD...
Landrover (and yes I did burn my rear)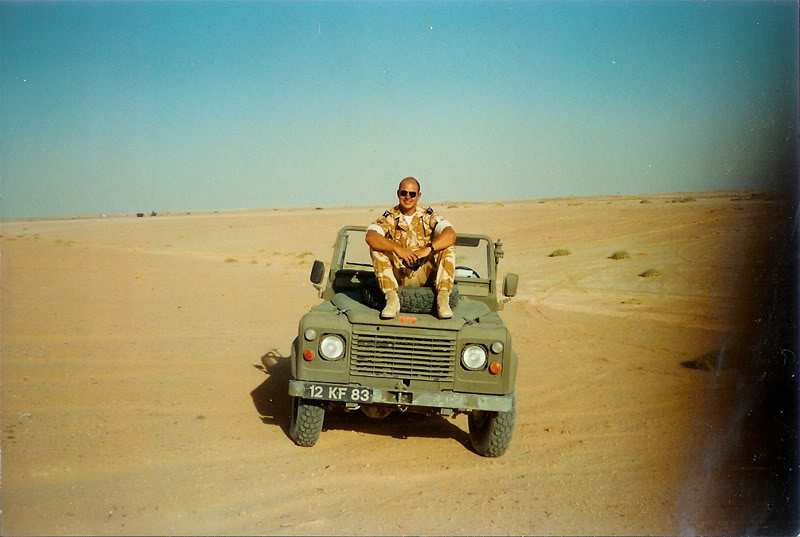 Aircraft Refueller...
Borrowed USAF Water Tanker...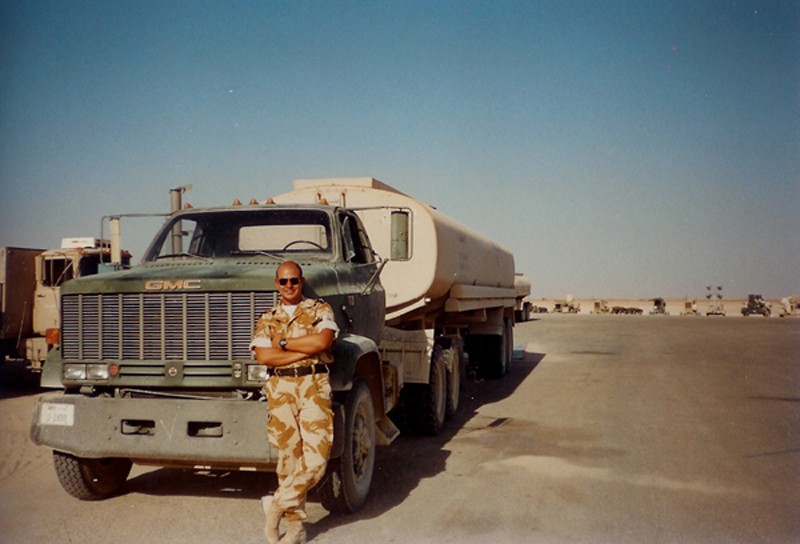 It sounds like you had an interesting occupation Andy, if possible could you expand on that a little please?
As a kid I only ever wanted to do two things, drive big lorries and join the RAF, most other members of my family (cousins, uncles) were mainly in the Welsh Guards, I just wanted to be different...
When I left school, I tried to join the RAF but failed the aptitude test, so I went to work in a local garage as an apprentice Mechanic/Panel Beater and thought that this is what I will be from now on, I really enjoyed working on cars and learnt so much, however at the back of my mind I still wanted to join up...
I was in the Air Training Corps (joined when I was 13) and every now and then someone from the careers office would pop down and have a chat with us all, I had just turned 20 and during one of their usual visits the Sargent had a chat with me and persuaded me to pop down and have another go at the test, so I did and this time I passed to be a Mechanical Transport Driver (MTD), then came all the different interviews which I passed without any problems, on the 19th May 1986 I signed on the dotted line and next day I was on my way to RAF Swinderby for Basic training, after Basic I went down the RAF St Athan for my Trade training, which I flew through and was now an Leading Aircraftsman...
My first base was RAF Cosford, what a brilliant place that was, days off a couple of us would go down to the museum and help out, anyway, as an LAC you are restricted to driving mainly cars, vans and the old HGV 3 Bedford MK's, after 12 months as an LAC I was promoted to a Senior Aircraftsman and soon after passed my test to drive 39 seater coaches and then 55 seater coaches, 1000 gallon Refuellers etc...
Over the next few years I passed out on a large number of different Airfield vehicles, then in 1989 I was posted over to Germany, however it was more VIP driving than any other, which wasn't really my thing, although for some it was a quick & easy way to get promoted, I did however manage to get away and do some real work for a few months in a much warmer climate in '91...
After 3yrs in Germany, I was then posted to RAF Brize Norton and back to driving the big stuff again, late '92 I passed my HGV 1 test (the vehicle of my childhood dream), I also worked in the Parachute Training School (PTS), driving coaches & lorries to and from the DZ's picking up the chaps and their chutes who had just jumped from a perfectly serviceable aircraft...
In '94 I went over to RAF Aldergrove, driving the old AEC 3000 gallon refuellers, mainly filling up Puma's, Wessex and Chinook's along with whatever else turned up, including a C-5 Galaxy, it was when President Clinton visited Ireland, I was on my own on night-shift, we had four 3000 gallon refuellers and they emptied ALL four of them and the was just a "top up"...
In February '96 I was posted back to Brize, this time I mainly did HGV 1 work, went over to Europe a few times and up and down the UK, around August - September, I went to work in Tanker-pool and stayed there until November '97 when I had a slight mishap on my motorbike...
Johnag is an interesting alias which appears to have no relevance to your real name, would you care to share a little about the history behind this?
It's my first name John the A is for my middle name Andrew and the G is for my surname Griffiths...
When did you build your first model and can you remember what it was?
I can't remember exactly when, I think I must have been around 8 or 9, it was a Hussar on horse back, my father was very strict and if it didn't look exactly like the one on the box cover it was thrown into the bin, I still enjoyed building them though...
What sports do you play or watch:
Being a Welshman, I used to play a lot of Rugby, when I joined up I took up Judo, now I just watch the odd game on tv, I also love any motor sport, with the exception of F1, I find it a little boring and a tad unfair to the poorer teams, I think it would be a lot better if the fastest started at the back...
What type of music do you favour and who are your favourite artistes?
I like pretty much anything, Debbie Harry & Blonde, Carpenters, Roxette, female Modern Country singers - Martina McBride, Kathy Mattea, Reba McEntire, I also like a good bit of AC/DC, Pink Floyd, Led Zeppelin, ZZ Top, ELO, The Who, Bee Gees, Deep Purple, as well as some Classical and Opera...
Which are your favourite foods and drinks?
Food, anything that is edible...
Drinks, Black Tea/Coffee
Who is your favourite author and what genre of fiction do you favour.?
Book, what on earth is a book...!!
Only kidding, it's a bit like my music taste, James Herbert is my favourite author, I also like Kathy Reichs, she's the one who the TV show Bones is based on (although I'm not a huge fan of the show)...
Thinking of famous people, who would you most like to meet (past or present) and what would you like to ask or say to them.
Randolph Scott, he was one of my childhood Heroes, I don't know what I would say or ask him, I would just love to have a brew and listen to him.
Marooned on a desert island which luxury item and which essential item would you take with you and why?? (No means of communicating with the outside world is permitted)
I don't know if he'd be classed as a luxury item, but I would love to have my dog with me, he keeps me sort of sane...
Essential item would have to be my Leatherman multi tool to help with my survival...
Man's best friend.... how could I refuse you from having his company!!!If you could visit anywhere in the world, where would it be and why would you like to go there?
I'd love to tour America for at least twelve months, this way I could get to see everywhere that I always dreamed of, I would also like to visit some of the resting places of my childhood heroes...
What was the strangest experience you ever had?
I guess my strangest experience would be, when I was in intensive care after my motorbike mishap, some of the dreams and hallucinations I was having due to all the different meds, where really, really strange along with a little frightening...
How many built models do you have in your collection, which are your favourites and why?
Since coming back into the hobby I have mainly built cars, I have 6 of them, well 5 1/2 (I don't know how to class the flying Corvette I did)...
I also have a few die cast models that I have renovated, I have 7 SHADO 3's and in Interceptor from the UFO programme series, although I have added extra bits to 6 of them...: -
My SHADO 3 collection...
Top view...: -
All open, (the two camo green ones have laser cannons, the Radar dish is one of those windo sucker things, in case you were wondering)...: -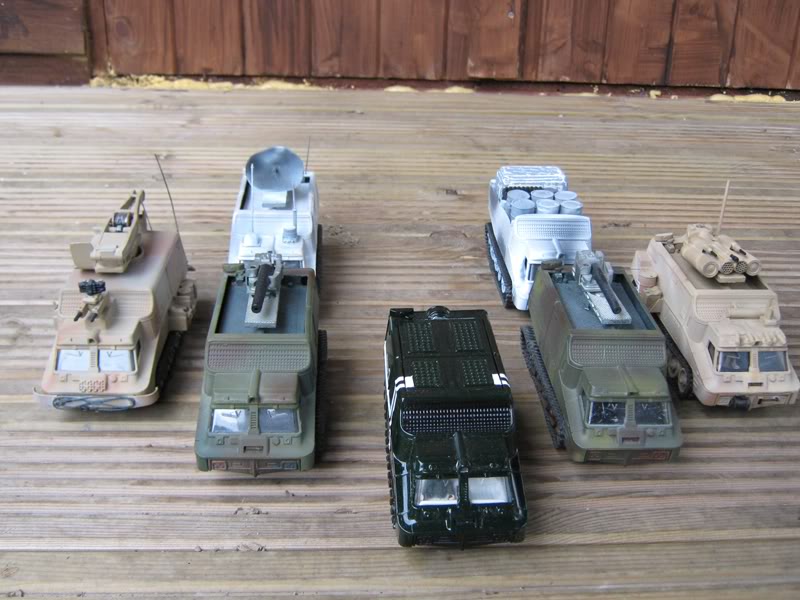 This one has 3 mounted 50cals and 2 Rocket pods...: -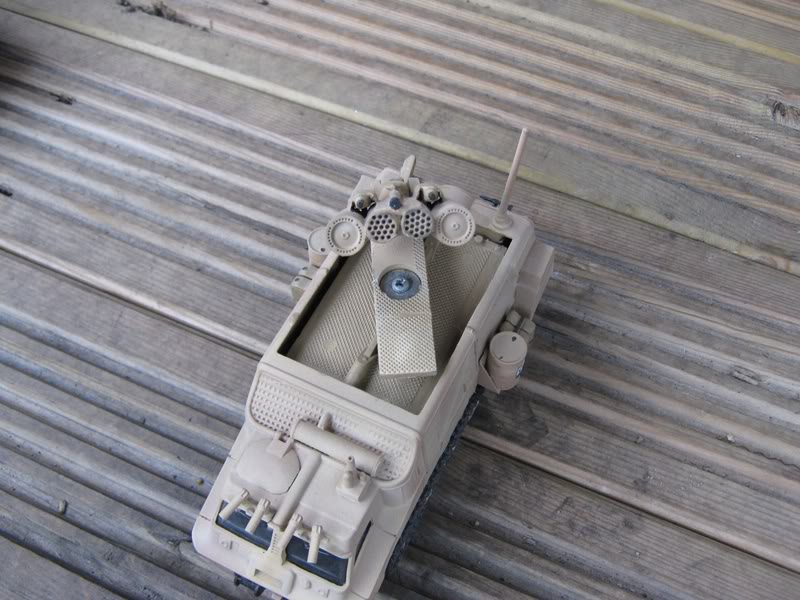 Mounted crane for recovery/rescue work...: -
And the final one I did all standard, including the tracks (the tracks on all the others I made using the non slip pad tuff)...:
Most occupations come with some funny stories attached. Can you bring any to mind?
One of the only ones I can think of at the moment is, when we'd get new and young LAC's lads and lasses into the section, we'd send them to Supply to pick up a "long WAIT" and some sky hooks, off they'd go and after about an hour waiting in Supply, they'd be told that they hadn't got any and would send them off to another section...
Some would get the joke and come back to the section, but we'd get the odd one or two who would go from section - section only to return a few hours later and tell us that no one had any of the items...
Which are you favourite films?
Convoy, Zulu, Italian Job (the REAL one), Vanishing Point, Duel, All Randolph Scott, Norman Wisdom, George Formby & Doris Day films, Sound of Music, How to Train your Dragon both 1 & 2
I could carry on & on, but will save you...
What is your favourite car, bike or plane?
Vauxhall Viva HB
Original Audi Quattro
Volvo 850 T5
Anything with a V8
Again, I could carry on & on, but will save you...
If you could change something about our hobby, what would it be and why?
Try and bring down the prices of models, paints and tools etc, sadly, if they keep going up as they are, this hobby won't last more than the next 20yrs...
People involved in our early lives often have the most influence upon us. Would you care to tell us who that person was for you and why?
There wasn't anyone in particular sorry...
What was the daftest thing you ever did that you care to admit too?
Waaaaay to many to list...
Finally, is there anything else you would like to add?
I just want to say a HUGE thank you to each and everyone of you all for sharing your builds, knowledge as well as sharing photos of car & model shows you all go to...
I have learn't so much just watching your builds come together, along with reading the tutorials you share with us...
I'd also like to thank you too Al, for setting up and running this site, I have tried a couple of other places, but here I really feel welcome and at home...
Andy also asked if I would kindly (he doesn't know me very well does he..... muahahaha!!) enclose the following:
11th November '97 I had a huge motorcycle accident (Open Book fracture to my Pelvis, I now have metal and screws holding it together (the left side was 4 inches out of place), burst most of my lower internals, broke - cracked and squashed 95% of my vertebrae (I used to be 6' 4", I am now 6' 2",), so yet more metal work (rods, pins & screws), brain (yep, they managed to find one  ) got a little messed up, severe PTSD (I used to be able to keep things locked up, but after the accident everything came out, things from my military service, the accident and my childhood, I have a lot of bad demons living in my head) and depression, anxiety etc...
I spent 12 months (including 2 moths in Intensive Care) in the John Radcliffe Hospital in Oxford and then 2 years in Headley Court, it's a military rehab centre, they got me out of the wheelchair (from full time to part time), I'm only able to walk short distance's, but at least it's better than nothing...
In June 2000 I was finally Medically Discharged from the Forces and came back to my home town in North Wales, early '06 I was diagnosed with Follicular Lymphoma, it's a cancer of the blood/lymph nodes, they can't cure it but can control it, '08 it was in remission so stopped the treatment...
October '08 Scruff my old dog had to go to sleep, it hit me really hard and winter '09, my head let go, so I now have a case worker etc looking after me, my speech is also messed up, and I've also become a bit of a hermit, I hate going out, I just feel safe in my house...
December '12, my 'C' resurfaced so since January this '13 I have been back on the Chemo, I had to go every four weeks for a total of six treatments and 12 treatments of Radiotherapy and now I have to go once every three months for a maintenance treatment...
There's been a load of other things happening, but I won't bore you with all of it...