Real Name:
Bruce Osborne
Date of Birth:
May 30 1946
Place of Residence:
Hoodsport, WA 98548
Occupation:
Semi-Retired
Interests:
Scale Modelling, wood carving, photography, motor cycling, HAM Radio.
Philosophy for life:
" So many Models ........ so little time."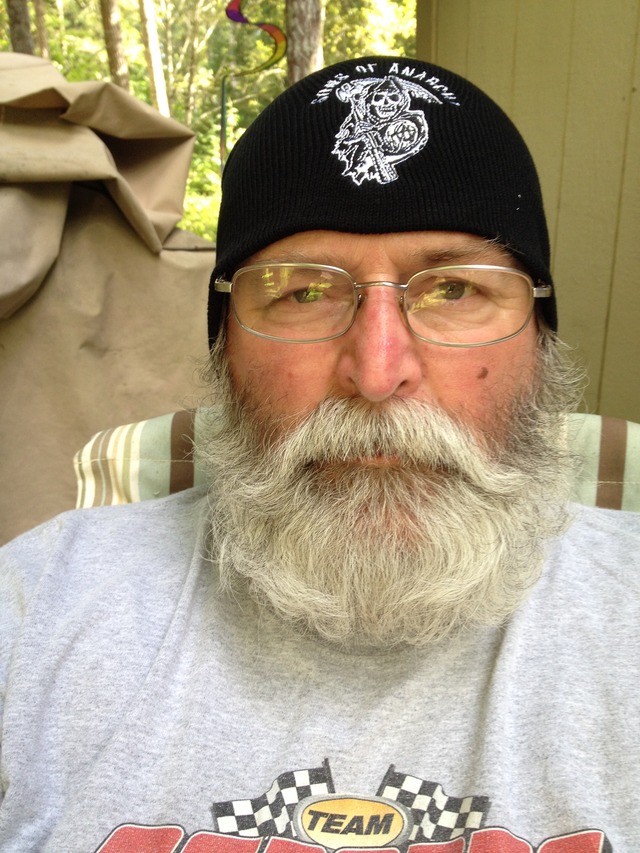 Dogfish is an interesting alias. Would you care to share a little about the history behind this?
I was looking for a descriptive word for the Chum Salmon, (known around here as a "Dog Fish") for my email address. Dogfish is also the common name for a small pesky shark, which likes to steal your bait, when fishing our Hood Canal. However, others also had taken the name and an option was to add the number and under score as a suffix. (i.e. Dogfish_7 )
Wood carving is an interesting hobby, would you care to expand on that a little please Bruce?
As to your question on Wood Carving, I use both carving knives and mini auls as well as power carving and even chain saw blades for carving. Most of my work has been given away as gifts for Christmas, etc. Here is one I kept. It won a carving of the month ribbon at a Club meeting. It is carved from Tupilo wood from Georgia, has glass eyes and pueter legs and is my own desin of a Western Winter Wren.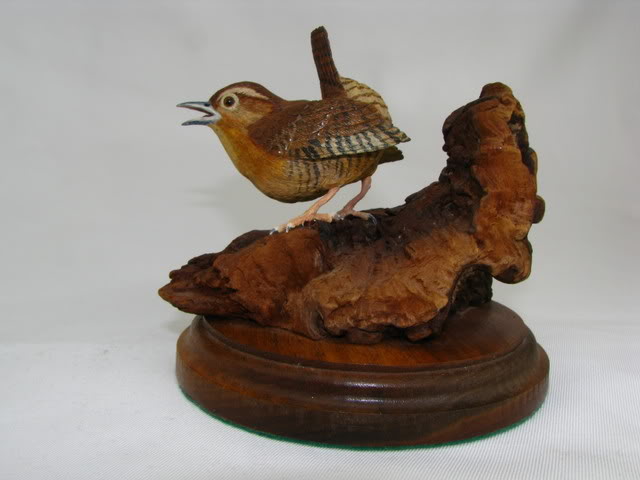 When did you build your first model and can you remember what it was?
I started building or should I say gluing models together back in the late 50s. I would take my allowance money and save up until I could buy any model for that price. One of the first I can recall was a model of the Kamikaze Flying Bomb. I found it extremely curious as to why a Japanese pilot would strap a 500 pound bomb to his ass and try and land it on an USA aircraft carrier, without any landing gear...........
What sports do you play or watch:
Disk Golf
Disc Golf?.... I'm not familiar with that, would you tell us a little about it please?
As for your question about Disk Golf, anyone can find out everything they would ever wnt to know about the up and coming sport of Disk Golf on
www.pdga.com
What type of music do you favour and who are your favourite artistes?
Classic Rock of all genere. Too many favorites, but Crosby, Stills and Nash come to mind.
What are your favourite foods and drinks?
That would have to be Fried Chicken and Beer.
Who is your favourite author and what genre of fiction do you favour.?
My reading is mostly Tech Manuals and reference for whatever models I,m building or want to build.'
Thinking of famous people, who would you most like to meet (past or present) and what would you like to ask or say to them.
I would like to meet Morgan Freeman and thank him for all the great characters he's depicted, as well as a few other great actors, too many to mention.
Marooned on a desert island which luxury item and which essential item would you take with you and why?? (No means of communicating with the outside world is permitted)
Guess that rules out a Ham Radio so matches come to mind ( in a waterproof container). Why is pretty obvious.
If you could visit anywhere in the world, where would it be and why would you like to go there?
I like where I am and can't think of anywhere else I'd rather be.
How many built models do you have in your collection, which are your favourites and why?
I only have around 60 finished builds, but some of my most favorite are the Gasser builds from the 60s era. Guess I'm an "Old Fogee".
Most occupations come with some funny stories attached. Can you bring any to mind?
Being an Ex-Plumber, there aren't too many)
Which are you favourite films?
I own over 6000 DVDs of movies, so that's a real hard question.
What is your favourite car/bike/plane.
My bike:  a 2014 Victory Cross Country Classic.
If you could change something about our hobby, what would it be and why?
I would change the prices, so more young people could enjoy the fun of modelling.
If you could have one wish granted to you, what would it be?That my wife was still alive and here with me.
People involved in our early lives often have the most influence upon us. Would you care to tell us who that person was for you and why?
That would have to be all my Mentors in Scouting and High School sports.
What was the daftest thing you ever did that you care to admit too?
Too many to list.
Finally Bruce, is there anything else you would like to add?
That's about it.