Real Name:
Ashley Gillott
Date of Birth:
September 1979
Place of residence:
Sheffield UK
Occupation:
For the last 9 years I have worked for a company who produces cookers, fridges, toilets for the leisure industry, for 7 of these 9 I have been the lead tech guy working in the customer service department so I spend all day getting shouted at by people who have broken their goods and need it fixed.
On to this, I have just completed the hard part of the Gas Safe exam to become a gas registered engineer. With this I will be qualified for houses, caravans, boats on both LPG and domestic gas. I have 1 week of exams left then I will be fully qualified and looking for a new job
Interests:
Model building of course, along with movie watching, eating, spending time with my 6 year old twins, I will put shopping (which is not really my idea of fun but we go every weekend so it'show I spend my time. Playing on PS4 occasionally (usually for about 5 minutes then I get bored) and ebay, spend a lot of time browsing there + anything internet related.
Philosophy for life:
This made me chuckle when I saw it, I don't have one, I live day to day, I never make plans as they always fail, spend my money when I get it generally on things that I do not need.
When did you build your first model and can you remember what it was?
Was a plane, probably a Spitfire and I think I was between 8-10, turned out a real glue bomb!! I had no paint and remember looking at the decals thinking, wheres the sticky bit, how am I going to get these on there???
About 6 years ago I built a matchstick Chinese junk boat and a couple of rally cars + a Honda racing bike.
These where all rubbish and not worth mentioning.
What sports do you play or watch?
I used to play 5 aside football (soccer for our US friends) but retired 5 years ago after breaking my wrist and deciding I was too old, I did continue the match and scored a few more but it hurt like hell! After that I lost interest in sport.
What type of music do you favour and who are your favourite artistes?
Music, I like everything, no particular artist springs to mind, it's easier to say what I dislike.. Country and western and opera.
Everything else is fine for me.
What are your favourite foods and drinks?
Pasta with anything and drinks are coffee and the very occasional bottled beer usually Brakspear triple, for a strong beer it is full of flavour
Who is your favourite author and what genre of fiction do you favour?
Terry Goodkind, wrote an amazing set of books called 'The sword of truth' which they later tried turning into a tv programme called 'The Seeker', it flopped but the books where brill! Adventure fantasy stuff.
Thinking of famous people, who would you most like to meet (past or present) and what would you like to ask or say to them?
I have nothing on this, famous people are just people to me I don't care if your famous and have fan clubs. to me your just someone that either worked hard or fell into it.. Either way people wish for different things in life and fame is not one for me.
Marooned on a desert island which luxury item and which essential item would you take with you and why?? (No means of communicating with the outside world is permitted)
I would want a Rubix cube as I have never managed to complete it so I feel I would have enough time and fishing equipment to try and catch something nice for my final supper
If you could visit anywhere in the world, where would it be and why would you like to go there?
Maldives, I have a thing for marine fish, their bright amazing colours and corals are the bee's knees!!
Tropical marine fish are indeed beauitiful, have you ever kept them in a tank?
I have and heres a picture of my tank, had to get rid of it because I bought a huge tank after this one but couldnt afford to run it, I hope to one day have another.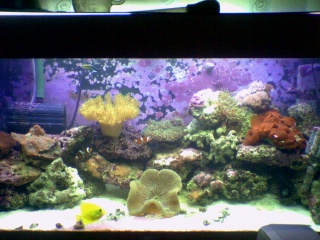 How many built models do you have in your collection, which are your favourites and why?
7 completed builds, A Team van is my true favourite, was my first real completed model, it isn't brilliant but I like it.
Ducati 916 which I gave to my dad, really enjoyed building it and looked good when finished and my first experience of a Tamiya bike.
Giving the Ducati to your dad was a nice thing to do. What was his reaction?
He was impressed with it, I told him to put in his garage, he declined and placed in his little shrine which I didnt know about, this holds 2 signed racing helmets and 2 more scale bikes, one Lucky Strike liveried up and not sure of the other, he also asked me to do him another bike of some sort.. Thinking Suzuki RGV Tamiya 14081 kit
Most occupations come with some funny stories attached. Can you bring any to mind?
Not funny story but I answered a call one day and Im listening to the chap thinking, I've heard this guys voice before. So I racked my brain and remembered the guys email address. Searching though the work inbox I found him. So I tell him 'Your
s...@whats.com
right?' He answers... "Oh I must have spoken to you before then, looks like I can't get away with anything".. The email was over 6 months old, I remembered him because he had spent nearly an hour doing my head in before over an oven shelf on our previous call!! Not heard from him since
Which are you favourite films?
Transformers, all of them, got them on Blu Ray and generally when I'm modelling I have one of them on in the background.
What is your favourite car/bike/plane?
Escort Cosworth 4x4 just like my avatar pic.. One day if I had £20k to waste, this would be what I would drive.

Have you ever driven a Cossie Ash?
No Mate but I have driven a MK2 escort rally car on one of those experience days, was a great laugh, I was rubbish and came 5th overall
Bike, Always liked Yamaha R6 sound great and for me look the biz. Will be taking my bike test in the next couple of years if all goes to plan and that's what I'm having.
That is something to look forward to and you'll have to come on a visit and I'll take you to Hartside Pass. Said to be the best bike ride in the UK.
Count me in
If you could change something about our hobby, what would it be and why?
I would like things to be cheaper especially resin transkits and complete kits. I have a few which I would like to buy but for the kits at over £100 + shipping, I won't commit to buying one with 0 experience. Even some transkits are expensive so for now and until whenever, I will be using the ever required plastic card and replicating it the best I can.
If you could have one wish granted to you, what would it be?
See I was going to go for winning the lottery.. Thats changed. I wish that me and my other half would actually get along together and could live happily ever after..
People involved in our early lives often have the most influence upon us. Would you care to tell us who that person was for you and why?
I would say but it is too personal to be broadcast as its for all the wrong reasons.
What was the daftest thing you ever did that you care to admit too?
It wasn't me but I played a part in it. Me and my pal were working on his car ('83 Vauxhall Nova) I think it was something related to the suspension, anyway we had some mole grips (vice-grip locking pliers) which he was using and he managed to adjust them and squash the handles as you do to make them bind. Well the fool accidentally got the skin of his hand caught in between the handles... I prized them off though it left a huge purple mark on his palm. Thats not the funny part. As we (he) didn't manage to remove the nut he had to use said mole grips again and the nugget did exactly the same, got his same palm in the same place caught in the handles!! That was about 14 years ago and he still remembers, was one of the funniest things I have ever seen poor lad.
Finally Ash, is there anything you would like to add?
Modelling is a fantastic past time, whether you be doing OOB builds or making something amazing out of styrene, wood, matchsticks, metal whatever. For me if you can take nothing and turn it into a great something then you're an artist. You don't need paint and a canvas you need imagination, materials, filler and wet and dry
.
Thanks for letting me be a part of this site, you guys are real engineers in miniature and should be very proud of what you have/can/will accomplish in this fantastic hobby.
Thanks for taking part in 'Limelight On' Ash, it's been a pleasure.