Real Name:
Clayton Gratz
Date Of Birth:
July 6, 1935
Place of Residence:
Crystal River, Florida, USA
Occupation:

Retired
Interests:
Model cars, Bonsai, motorcycling locally, puttering around in the yard, generally staying home!
Philosophy for life:
You looking for philosophy from a high school dropout? I get my philosophy from a favorite blues singer, Maurice John Vaughn, "Every thing I do, GOT to be funky "!
Geezerman is an interesting alias. Would you care to share a little about the history behind this?
When I hit 60, I got some black edged birthday cards that had "Over the hill", and stuff like that. One of the things I got was a plastic candy cane like tube that was filled with licorice jelly beans and had Geezer printed all over it. So I kinda adopted that moniker ever since then .Went to register on line, back in the early computer days on something, and Geezer was taken, so Geezerman was available.
When did you build your first model and can you remember what it was?
I built models back in the early 60's but I was out of it until I retired and moved to Florida.
My daughter was comptroller for a Mercury dealership in Michigan and wanted to relocate. She moved here to Crystal River shortly after we did. She got a job, sight unseen, with a dealer here. Comptroller over 5 different stores.
The dealer's Chevy store had a new Prowler in the show room ,and I did a lot of gushing over it. That Christmas '98, she and the kids gave me a new prowler kit. And that set me off modelling again. I think that is the only box stock I have built since then.
What sports do you play or watch:
Shazz and I enjoy watching some college, and pro, basketball and football.
What type of music do you favour and who are your favourite artistes
I have always loved the blues. Taj Mahal, Albert Collins, Mississippi Heat, Most all of them.
And on the other side of the music spectrum. I like a lot of the more popular Classical music, Rossini, Beethoven, Mozart
Classical guitar. Big crush here was Charo, Loved her music and was chuffed to hear her talk.

Which are your favourite foods and drinks?
My tastes in foods are simple. Eat at home mostly. Seldom eat red meat, but I love Baby back ribs. And Pork. Shazz makes a lot of killer chicken dishes. We eat mostly one dish meals, like casseroles, stew, etc. I like a few favorite Chinese dishes. Every day of my 40 plus working years, I had at least one of my lunch sandwiches, sometimes both, was peanut butter.
I know you are into growing Bonasai and own an. D ride aa Chopper motorcycle.Would you tell us a little about those please Clay?
BONSAI The art of growing and training miniatuture potted trees.
I got interested in bonsai in 1978 and have been practicing the art form ever since. I was president of the club in Lansing, Michigan in 1981 and after moving here, the one here if Florida for 6 years.
I operate pretty much as I do my modelling. Minimal cash investment. Most of my trees are collected from the wild or I had propagated myself. So I have no super knock out show quality stuff.
My motorcycle is titled as a Kawasaki because the frame is custom PAUGHO Kawasaki chopper frame . Front end and wheels are Kawasaki components. The engine is Yamaha XS 650.
At my 70 th birthday, my children had got together and bought the frame and the used engine , and engaged my son-in-laws brother-in-law (who they bought the components from) to do most ot the building. It took a couple of years, working together, but we eventually got it on the road.
I have driven it across the state to Daytona bike events twice.
Who is your favourite author and what genre of fiction do you favour?
Lean towards Science fiction, space opera type, not fantasy. I like Lee Childs 'Reacher' series. I guess that would be classified as action thriller stuff.
Thinking of famous people, who would you most like to meet (past or present) and what would you like to ask or say to them.
Can't say that there any I would like to meet. Entertainers, in general, I have a distaste for ('cept, Blues artists, of course, but don't have a hankering to actually meet any). Not much of a people person.

Marooned on a desert island which luxury item and which essential item would you take with you and why?? (No means of communicating with the outside world is permitted)
That's a tough question! I think if I had a good tent and stuff to eat, I would be quite content to just lay around and wait for the boat!

If you could visit anywhere in the world, where would it be and why would you like to go there?

Japan would be my first choice because oriental art forms have long been my favorite.
After that, I think I would enjoy visiting the North East portion of Australia or maybe some WWII Pacific sites.
Nowhere else flags any particular interests for me.
How many built models do you have in your collection, which are your favourites and why?
I have over a hundred models that are packed in boxes with about a dozen that are in a display that I built out of a couple of wooden fluorescent light enclosures. Those hang in my bedroom.
Have some I figure aren't all that great, but I'm happy with how most of them turned out. They are like works of my own art, so to speak.
Favorite might be the 55 Chevy convertible pace car that I junked out. And, I'm kinda proud of the 2 skull models.
Most occupations come with some funny stories attached. Can you bring any to mind?
I worked for Clark Equipment, who manufactured fork lift trucks. We had a new plant manager, who came from India. One of the projects he initiated was a large fork lift truck with the forks located on the side. When it was built, they discovered that it wouldn't fit thru any doorways in the plant. I drew up a political type cartoon that got widely distributed throughout the shop.  I got word that the manager was interested in finding out who I was.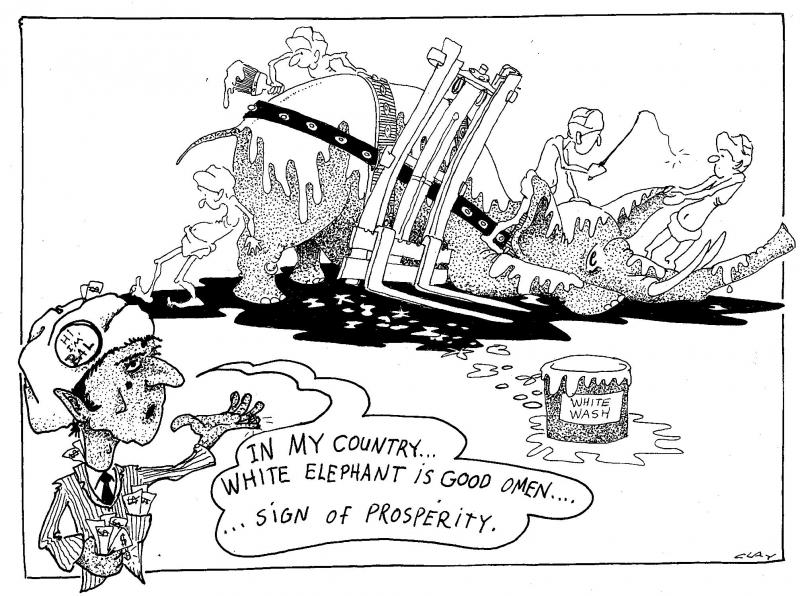 With my sense of humor there was usually some of my drawings circulating around at any given time.
Which are your favourite films?
Seldom watch or go to the movies. However, when the Lone Ranger movie starring Johnny Depp came out, my family coaxed me to go. Glad I did, I really enjoyed that one.
What is your favourite car/bike/plane?
I'm partial to Mopars. But the older cars have more soul for me.... 20's, 30's, early 40's.
Any good chopper that's not too gaudy or blinged up gets my attention.

If you could change something about our hobby, what would it be and why?
What's to change? Maybe if kit manufactures could realize that there are serious adults mostly building their stuff, and possibly locate sprue mounting points less conspicuously.
If you could have one wish granted to you, what would it be?
Seriously ? only one? How about the whole world reverting to simpler times!
I hear you on that one Clay. If only!!People involved in our early lives often have the most influence. Would you care to tell us who that person was for you and why?
For me, being a young punk ass, fresh from the streets of Detroit and on parole, I met Shazz who is now my wife and a religious Pentecostal girl. She straightened me out, somewhat, and changed my life.

What was the daftest thing you ever did that you care to admit too?
Well, how about a couple of weeks ago?
After reluctantly being fitted with a defibrillator, I returned to the heart doctor after a month or so, and cajoled him into giving me the OK to ride my motorcycle, selling him the fact that it was a lightweight non Harley type. I had been warned off of noisy vibrating stuff like chain saws and mowers.
My bike is a cut down, mufflerless, XS 650 Yamaha chopper! My first time back on it for a short 5 mile ride around the block was great without any problems. Couple of days later, I wanted out again, and took the same route. At 60 MPH or so, on the highway, the defibrillator went off. It zapped me once again before I got off the road and disconnected the dam things battery!
Finaly Clay, is there anything else you would like to add?
Appreciate the fellowship and support from all the guys here at Skid's Place.
Thanks, everyone !