Thanks John.
I never clear over decals on race cars. First there is always a chance of incompatablity between decals and clear coat and second, I think they look more realistic if left uncleared. Race cars don't have their decals clear coated on the 1:1's. Just my way.
No chance of getting them back on either, some bits went AWOL!!!
RetiredMike suggested doing a Darlington Stripe as it's on the right (as in correct) side of the car.
So.... as I have nothing to lose, I'm going to give it a go.
It was also suggested that I hand paint the number first but my artistic skills with a paint brush come nowhere near good enough for that. Even with the 'Darlington Stripe' treatment afterwards.
Figuring any number is better than no number and that it's going to be good practice for future NASCAR builds, I found a left over number from a previous build.
Wouldn't you know, it too, broke into FIVE pieces on lifting from the decal paper. Oh boy, I think I must have upset the decal gods recently. LOL
Anyway, with the stripe added, it won't make much difference. Once the decal is properly dry, I'll clear coat it then have at it with the stripe!!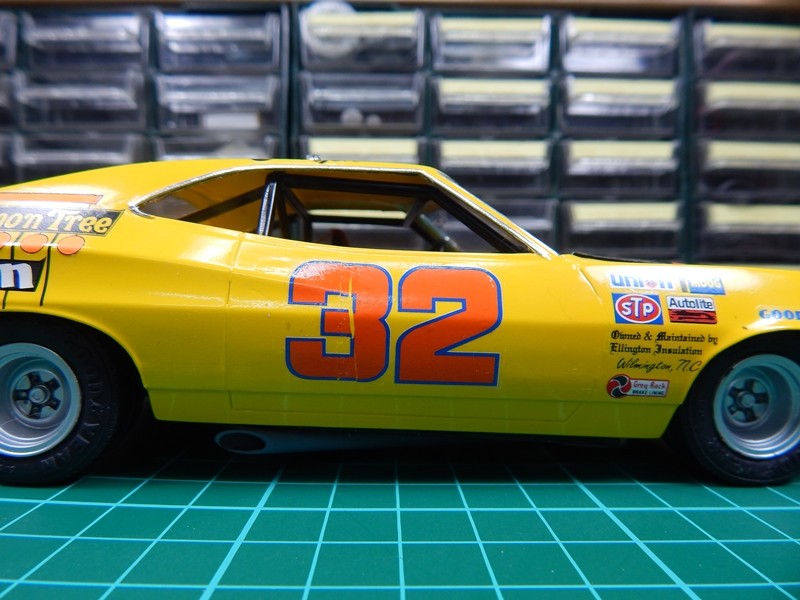 _________________
Al.
"
Success always demands a greater effort."
 Winston Churchill
"Success is failure turned inside out"  Unknown