Name:
Mike Kieltyka

Place of birth:

Chicago, Illinois, USA
Place of residence.
Valparaiso, Indiana, USA
Occupation:
None currently - I've been retired for almost 4 years, now. Previously, I was an electronics and instrument technician for US Steel Corp. for 42 years - in Chicago, Illinois and Gary, Indiana.
Interests other than modelling:
My wife and I enjoy seeing stage plays and performances. We've been to Las Vegas 4 times to see 6 of their Cirque du Soleil shows as well as ventriloquists and magicians. We have had season subscriptions to 2 local community theatre groups for the last 15 years.
I've also collected stamps since boyhood. I gave up my US collection after they got ridiculous with the various mediums of stamp issues: e.g. individuals, booklets, machine rolls, self stick etc. I do continue to collect Nicaraguan stamps finding them enjoyable because of their counterfeits, poor quality overprints, and unforeseen shortages due to earthquakes, political changes and primitive postal planning.
Since my teenage years, I've enjoyed loud rock music. So much so, that I built my own stereo system from Dynaco kits back in the early 70's. I still enjoy those tube amplifiers/pre-amplifiers and the massive 1950's speakers, today, but my interests have spread into classical, jazz and 40's/50's popular music.
I like to ride my bicycles locally on our quiet country roads. I still have my beloved Schwinn Paramount Road Racing 10 speed I purchased in 1975. I also have a Raleigh Gran Sport 15 speed I reconfigured for comfort. Riding the Paramount too much aggravates the chronic arthritis in my neck vertebrae. The Gran Sport allows a more upright cruiser position.
I was into cars when I turned driving age, my first being my dad's old 1960 Chevy Impala 283 V8. After that, I bought a 1969 Camaro SS350 which I drag raced occasionally on the street and the strip. I played with engine mods on that one, did some suspension mods and ran some autocross races, finally selling it when the gas crisis hit. A few years later I bought a 1966 Chevy Corvair Corsa. A poor man's Porsche with a flat six cyl with 4-1bbl carbs (140HP). That car was great fun. After that, a 1968 Camaro Z28. I made the mistake of putting together a 12.5:1 compression engine that proved to be a real PITA. It got stored for 20 years, starting occasionally, but one year I took it out and one of the rings had rusted in a spot to the wall, tearing out a tiny speck of metal and leading to a pinhole in the cylinder. That was followed by a 1983 Toyota Supra which was also a lot of fun, but rusted away, being a daily driver also. Nowadays, its basic transportation, but I threaten the SWMBO now and then saying there'll be a Mustang GT before I die.
I never did like getting rid of anything I acquired, so I still have quite a few of my childhood toys, trading cards, Lionel trains, steam engines and, of course, plastic models.
Your surname looks and sounds Polish to me. Do you have Polish ancestry? and if so, have you ever visited 'The Old Country'. I'd love to go there some day myself.
I've never been out of the US, myself. Yes, it's Polish on both my Dad and Mom's sides. My Mom's brothers have visited Poland in the region of their father's birth, but no relatives. Difficult to trace ancestors because of a dubious past and possible name change - it's a heck of a story if you'd like to hear that one.
Your former occupation sounds complex and interesting.
We've been going through an IT revolution now for twenty or more years. How do you see the future developing in IT?
I had a great time being involved in the marriage of industrial process control and computerization. With the advent of operator computer interfaces, came networking which opened up a whole new area of trouble for corporations. People using their computer interfaces for personal use and, now, industrial espionage, wireless communication and Stuxnet-like intrusions are complicating advances greatly. The big thing in IT now is security, in banking, retail and industry. It could become the medium for future warfare - ruining your enemy's economy.
When did you build your first model, what was it and how did you get into the hobby?
You're going back over fifty years on that one. I was about 8 or 9 years old. I know it was a 1/25 automobile, one of the yearly AMT new releases. I was a newsboy, delivering papers on bicycle back then. Next door to our newspaper distribution building was a combination hobby shop/magic shop. It was a great place for a young lad with an income. LOL
At that point I was hooked into car models. I don't have any of my old ones, since it was a common practice with us to strap a Jetex (dry fuel rocket) engine to the top of it, pass fishing line under the axles and tie it off at the other end of the alleyway and let them race a few hundred feet to its doom into a telephone pole. The few ships I built ended having firecrackers tossed at them until destroyed. We were very destructive kids back then.


Your interest in old cars on the site is quite apparent. What would be your all time favourite and why?
Of the cars I'll never have, it would be the Porsche 917. We went to Road America race course in Wisconsin for a few years and the 917 Can-Am cars were very awesome.
Personally, my favorite to own is the Chevy Corvair. They're still relatively cheap on the collector market and I'd like to have another, although the lower HP model. I had much of that car apart over the years that I had it. My brother-in-law repainted it dark metallic blue. It was fitted with Goodyear Bluestreak Specials mounted on Cragar SS wheels.
The rear engine made it a whole different world of driving technique than the Camaro I had before. Engineering-wise, it was very unique for an American car with its air-cooled flat six. They were winners in their classes at the SCCA mid-west gymkhana/autocross races I attended.
Dubious past you say! Would we like to hear that one? YES PLEASE!
My Mom's father never spoke of his family in the old country - in fact, he never spoke English. He came to the US just after the turn of the century. In 1955, my uncle, who lived with my grandparents, received a phone call from a Merchant Marine asking about our ancestry in the old country. He must have been a friendly fellow, because Uncle Antoine invited him to dinner at the house, which was close to the Port of Chicago. He had a practice of looking through telephone books in his travels for possible relatives. Mom's maiden name was Pacholski and his was the shortened Pachol.
When he arrived for dinner and grandad found out, he acted like the Gestapo had arrived and was furious with uncle.
The story finally came out from my grandad's  brother who lived in Connecticut, grandad never admitted anything out of fear. As young lads on the family farm, in what's now eastern Poland (then Russia), three of the five brothers were conscripted, by no choice of their own, into the army of the Czar. After a time they were selected to perform a mission.
They were given papers to travel into Austria-Hungary and assassinate a military government official. Relations between Russia and Austria weren't good at the time and there was a movement to control the Slavic speaking Balkans which were being released from Turkish control. Grandad and his brothers travelled into Austria and after much thought decided this could be hazardous to their health and just kept travelling.
They quickly made their way across Austria and into Italy where they decided to split up and go their separate ways. Fearing for their lives, they changed their name - uncle Antoine later said we were probably Jewish back then instead of the Catholics we are now. Grandad and one brother worked on the docks, he in Lisbon, brother in England, until they could book passage to America. The third brother was never heard from again. The two brothers never had contact after the split, but both eventually made their way across the pond. Upon reaching Ellis Island, NY, it was the custom to choose a 'proper' destination.
They were advised that mid-west Chicago Polish area was industrial and Polish Hartford area of Connecticut was farming and fishing. Grandad chose Chicago while his brother chose Connecticut. For over fifty years, they never knew the fate of their siblings until the Merchant Marine made contact. All was finally confirmed, and the following year, my mom and Antoine took grandad to Connecticut to meet his brother.
My you were a destructive child. Are you going to do that with any of your current builds. If so can we have a video of it please!!! Can we!!. Can we!!! LOL
No, I've calmed down quite a bit in my old age, although I still love playing with fireworks.
Your choice of the Porsche 917 as a favourite car mirrors my own and the Can Am versions were the pinnacle of the 917 with 1500bhp in qualifying trim. Given the opportunity to drive one, would you be up for it?
I would probably get in it and drive it, but nowhere near the potential of the car. I look back at some of the things I did when I was young and marvel that I'm still here. LOL
What is your philosophy on life?
Wow, never been asked that before. Treat others the way you'd expect to be treated. Do no harm. Within those guidelines, live your life as you wish and can afford.
What sports do you play or watch?

I no longer play sports. But I do watch a lot of College Football, Formula 1 and NASCAR racing.
What are your favourite movies and which genre do you like best?
Favorites are Gone with the Wind, Wizard of Oz, The Longest Day, Sink the Bismarck, It's a Mad Mad World. Probably a lot of others too, but if they're on when I'm channel surfing, I'll stop to watch. The wife will say "And how many times have you seen that one?" We still like to see movies on the big screen, like they were meant to be viewed, but now the action movies just put too much emphasis on the sound effects to the point that its painful. Really good movies are hard to come by these days.
Favorite genre nowadays would be comedy movies. I love a good laugh.
If you could meet any single person from history, who would it be? why? and what would you ask them?
Lee Harvey Oswald. He's the man at the center of one of our greatest mysteries in history. I would ask him to tell me his story.
What type of music do you favour and who are your favourite artistes?
I still enjoy Rock music mostly. Favorites are Led Zeppelin, The Who and Pink Floyd.
What are your favourite foods and drinks?
I enjoy seafood. Shrimp, Salmon, Walleye, Perch, Blue Gill. Although the wife limits me, now, I still love GOOD Pizza. Having grown up in Chicago, I had some of the greatest traditional pizzas I can remember. It's hard to find great pizza nowadays. For drinks, I like a good glass of wine, but my doctor disapproves because of my medications, so I find myself drinking a lot of Club Soda with lime. I like the bubbles.
Who is your favourite author and what genre of fiction do you favour.?
I don't read as much as I used to. Years ago I read a lot of Ian Fleming's James Bond novels. More recently, I've read a few of David Mccullough's historical books: John Adams, Truman, and The Great Bridge. I enjoyed his narration of PBS shows of great figures and historical events and his books read very much like the narrations.
Marooned on a desert island which luxury item and which essential item would you take with you and why?? (No means of communicating with the outside world is permitted)
The old Boy Scout signalling mirror to attract a plane or a ship and get out of there.  A slingshot to try to bag me some food.  It might not be as accurate as a firearm, but the ammunition would be endless. LOL
How many models do you have in your collection, which are your favourites and why? (Some photos would be nice to go along with this one please Mike)
I had to go downstairs and take a recount.  Built on the shelves are 219 car models and 5 planes.  The unbuilt stash is in boxes under the staircase, so I'll just estimate the latest number there at 300 cars plus 25 ships and planes.
I love building the vintage classic cars the most.  A long time ago, I picked up a large lot of Pyro and Highway Pioneer 1/32 classics.  Johan, Heller and Monogram classics are some of my favorites, also.
When I finished my basement, I set aside a corner for the model collection and shelved the walls.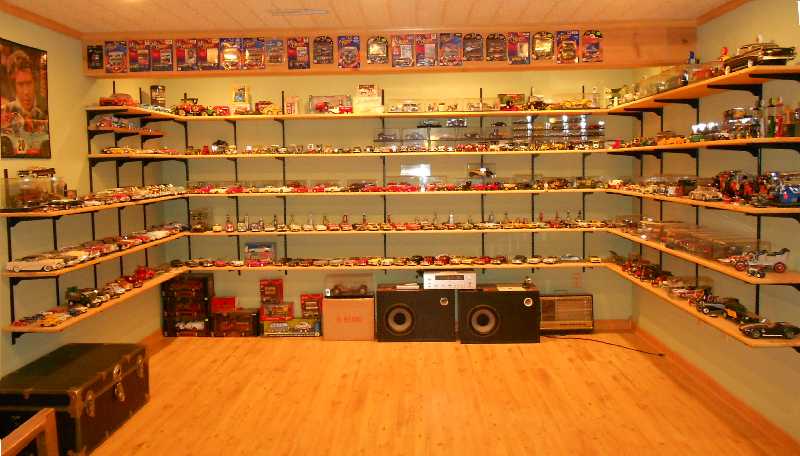 Monogram 1/24 Duesenberg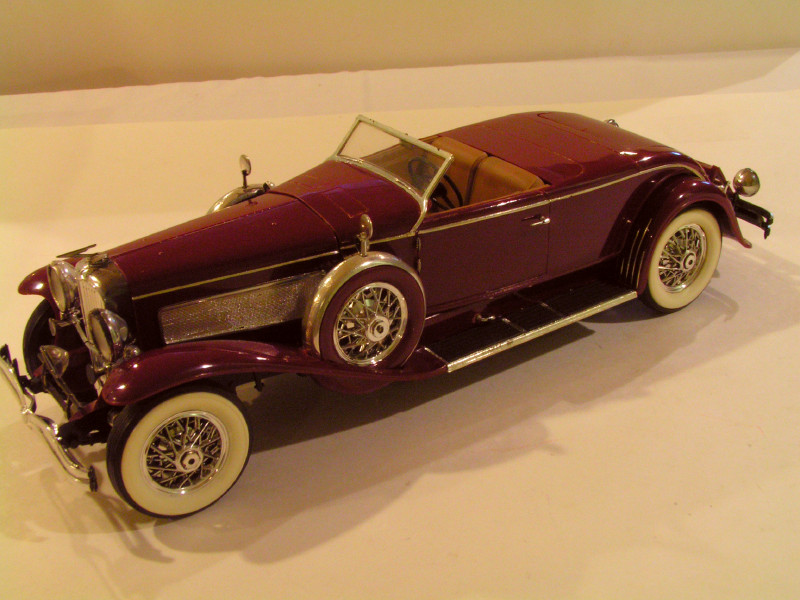 Entex 1/16 Itala Pechino Parigi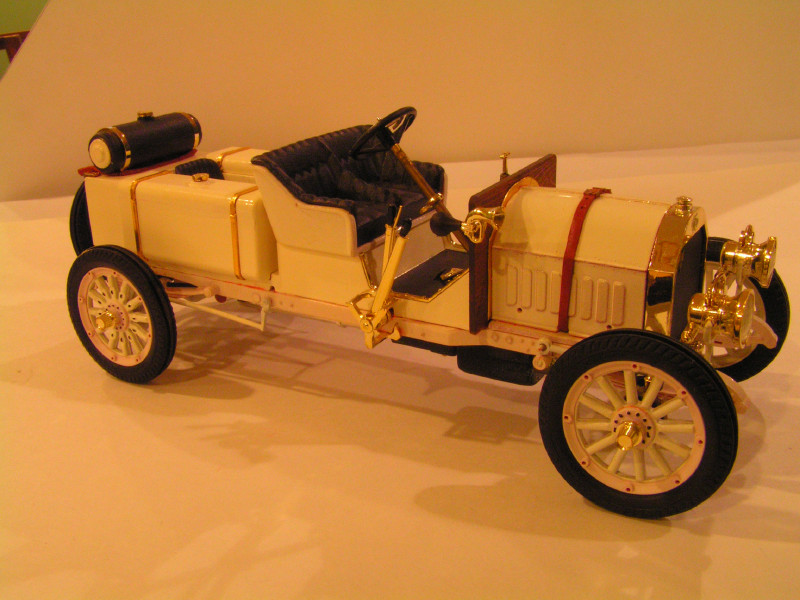 Heller 1/24 Delage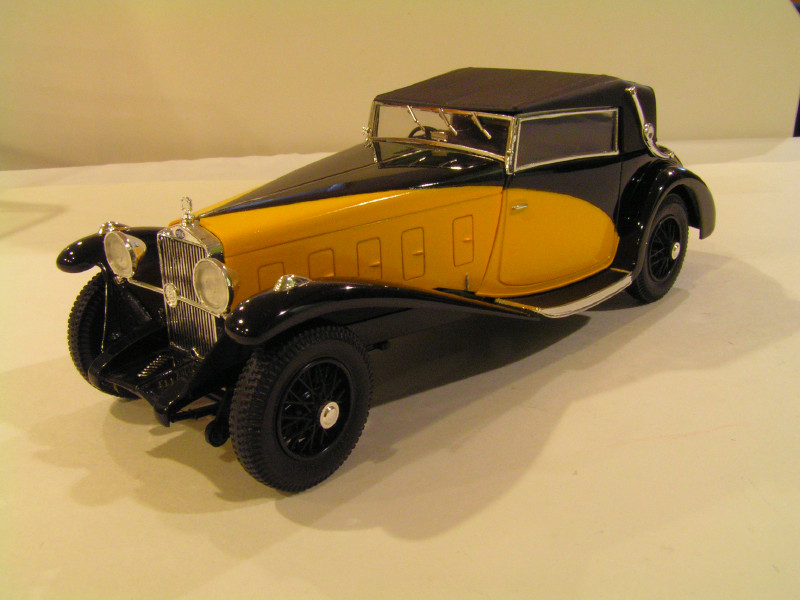 Heller 1/24 Talbot Lago
Entex 1/16 Hispano Suiza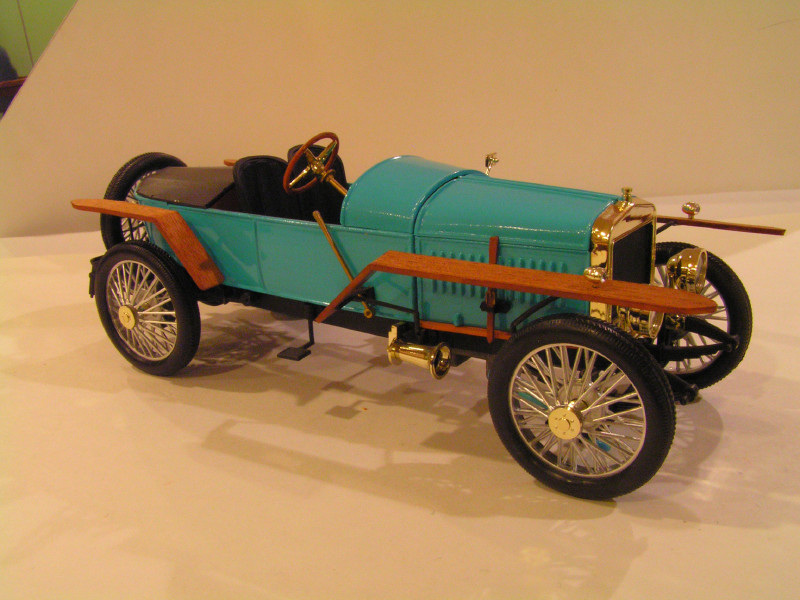 Johan 1/25 Cadillac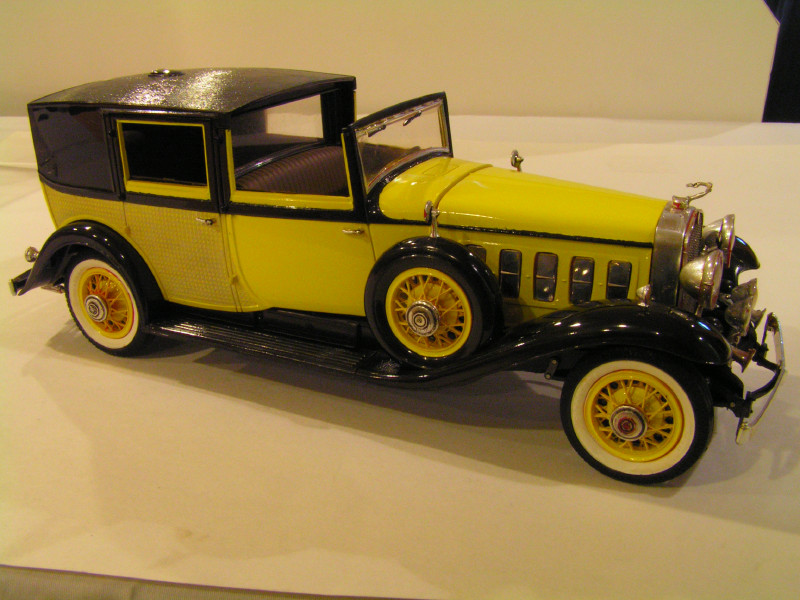 Johan 1/25 Cadillac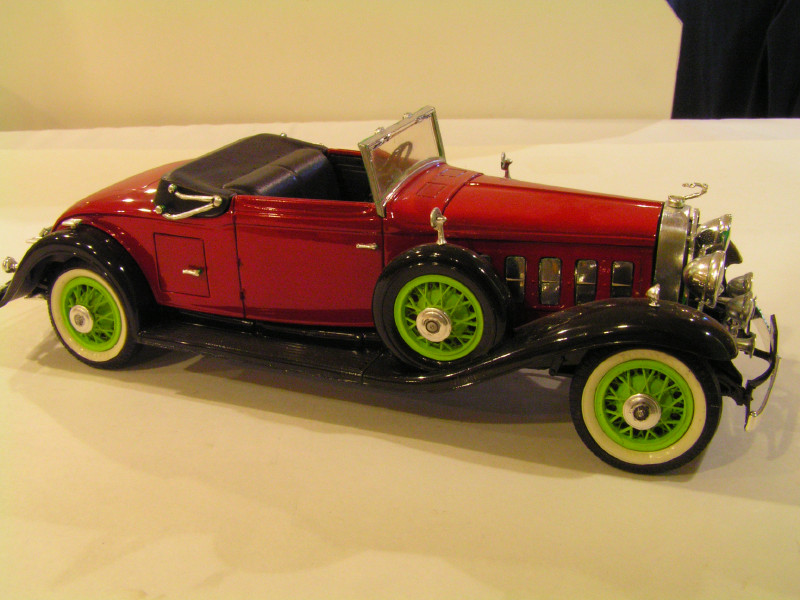 Johan 1/25 Cadillac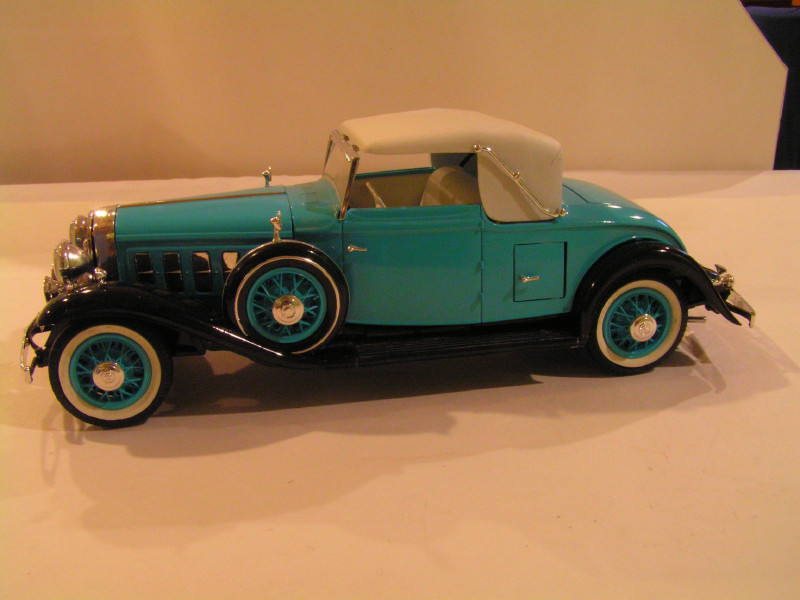 Italeri 1/24 Mercedes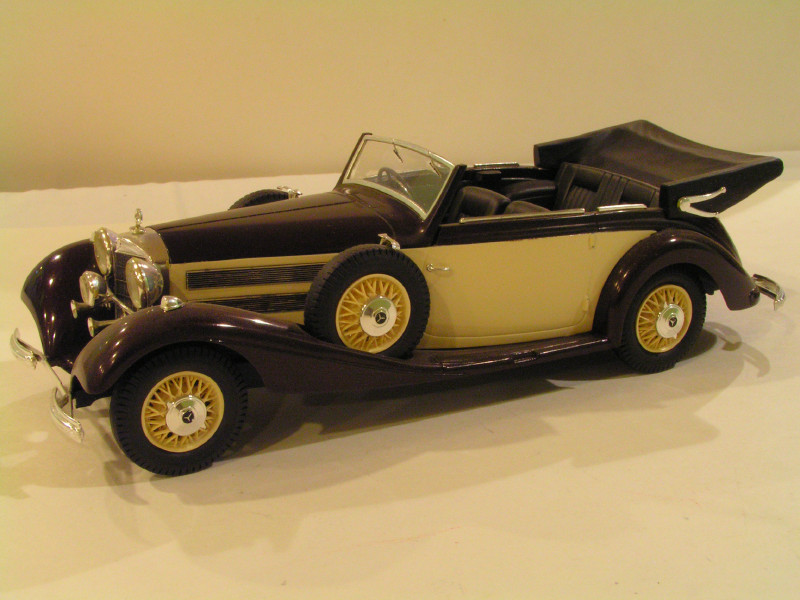 Monogram 1/24 Packard Boattail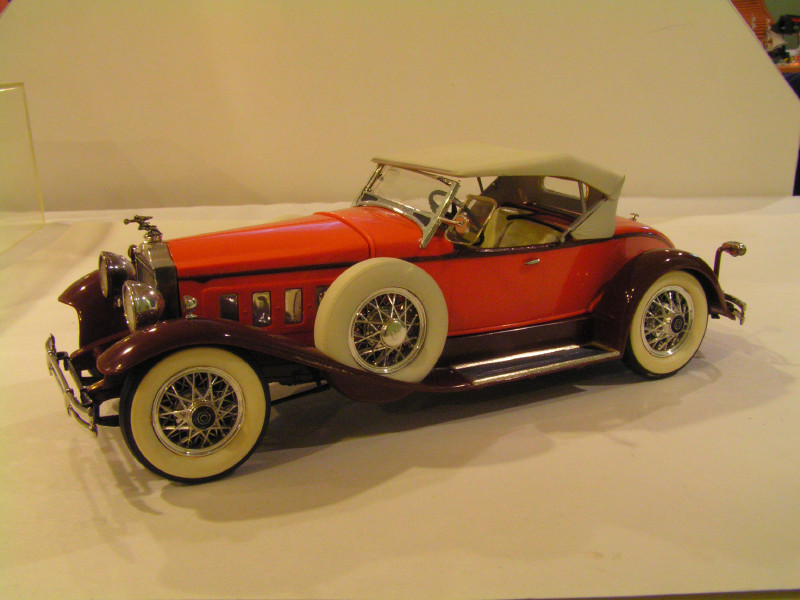 That's an impressive collection of 1920's and 1930's cars mike.

Most occupations come with some funny stories attached. Can you bring any to mind?

On the late night and midnight shifts, we techs would sometimes bring in private projects to kill spare time.  I had a vacuum tube audio preamplifier I built that developed a hum in it, so I brought it in to use the shop oscilloscope and other tools to troubleshoot.  I built the power supply using six 500 microfarad 550v flash capacitors (big stuff). Tube equipment commonly uses voltages up to 450 volts.
While checking a point, I turned my head to view the oscilloscope and the probe slipped off the test point and grounded the capacitor.  There was a huge flash of light, and an unbelievably loud bang, followed by loud ringing in my ears.  It was much, much louder than my friend's .44 magnum handgun.  The operations control pulpit was directly below our shop and after a while, the casting and maintenance foremen came knocking on the door.  
They were trying to identify what blew up in the caster and were ready to shut down operations for safety sake.  I told them I was trying to repair one of our defective 250v radio PA's and it blew up.  I would have been in deep s**t  if they knew the truth because they always told us we lost about $10,000/minute to have the casting operation shut down unplanned.
If you could be granted one wish to come true, what would you wish for?
Oh, to be 18 again.
Finally Mike, is there anything you would like to add?
Since I retired, I've had a great time taking part in these forums.  The worst aspect of retirement is losing that daily interaction with co-workers.  So, logging on every day and communicating with people with common interests is a wonderful pastime.  Thank you for it.
Mike, it's been a real pleasure having you as our first 'In The Limelight' guest. Thank you for taking part.

The man himelf: